Beachy Barns is a local, family-owned Ohio shed company that is proud to be your source for sheds in Columbus, Ohio. We don't take a cookie-cutter approach to selling sheds. Instead, we focus on personal service and custom shed building that will meet your individual needs. We keep a wide variety of inventory sheds near Columbus and also do a lot of custom sheds in Columbus also. If you are in the market for a shed in Columbus we are happy to help you.
Our Custom and Prefab Sheds in Columbus, Ohio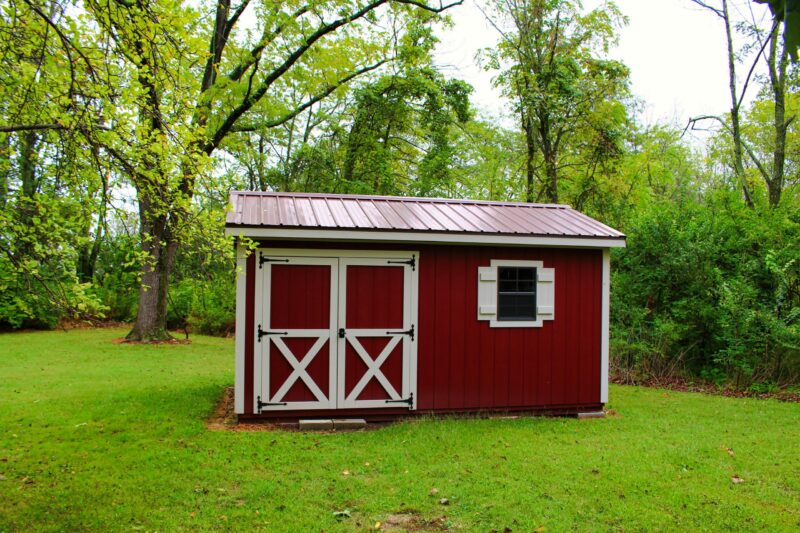 The Gable shed is one of our more popular sheds in the Columbus area. It's a contemporary roof with a straightforward, open design makes it a wonderful option for many backyards. You can also easily customize this building with doors or windows being able to be placed on any wall.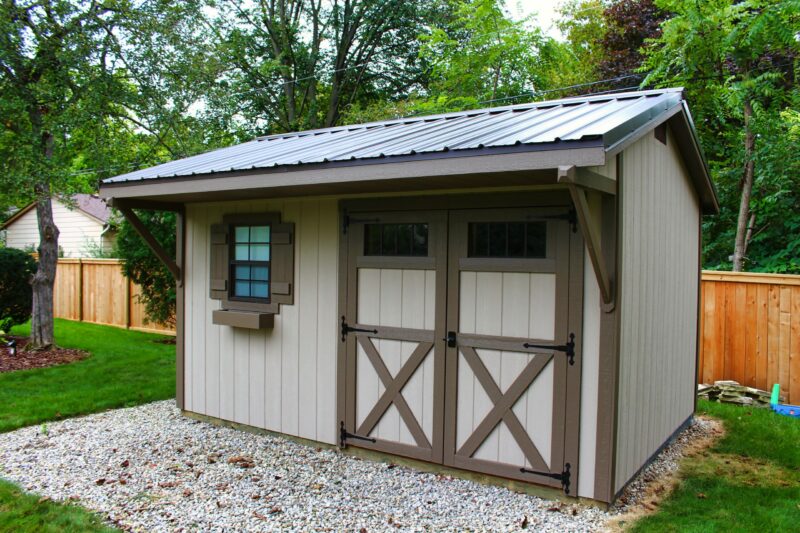 The Quaker Shed has a unique design that provides a large overhang for rain protection while opening doors. This style is a great option for backyard storage or for custom building uses like home offices, she sheds, etc… These are available on inventory or for custom-built sheds in the Columbus area.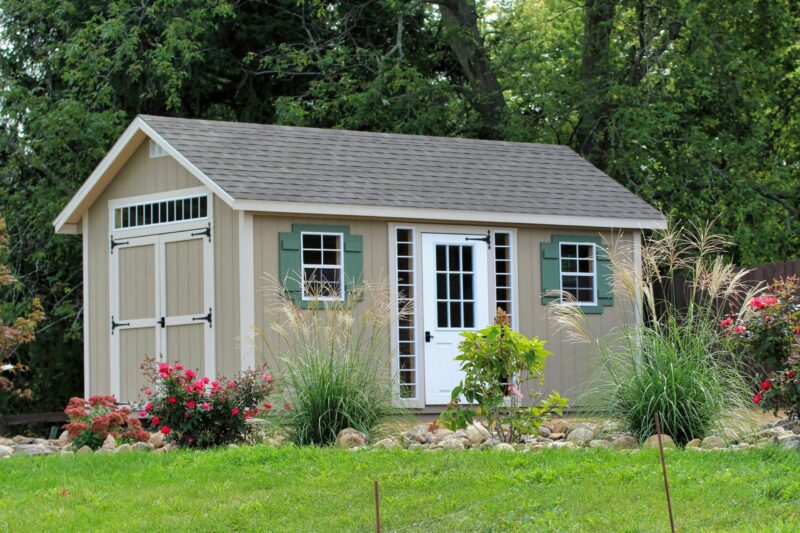 Our Cape Cod Sheds take the standard Gable sheds to a new level of distinction with a steeper roof pitch and a higher overhang. This allows you the space to add a loft to your shed if you need more room. These buildings are incredibly customizable for specialty shed usages like she sheds, home offices, or backyard studio sheds.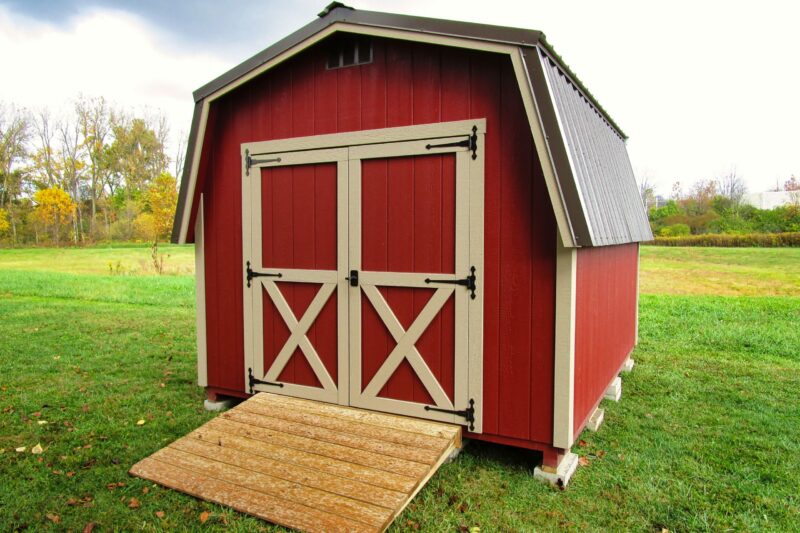 These classic sheds are the original sheds we built. These barn-style sheds in Columbus have the head-space you need to be able to add a loft for extra storage space. We custom build this style but also usually have these classic sheds on inventory at our home shed lot near Columbus.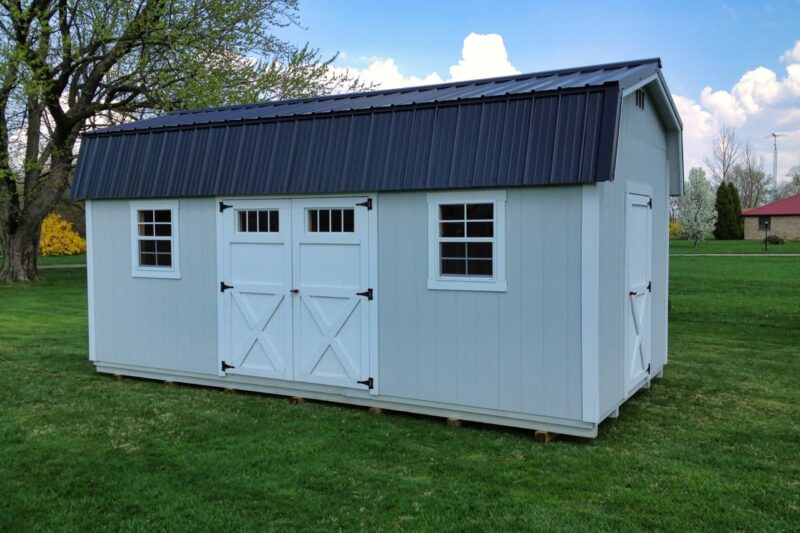 These high-walled sheds maximize your space and come standard with a loft in each end. These make great backyard garden sheds or workshops for your hobby shed. You can customize these buildings with windows and doors on any wall.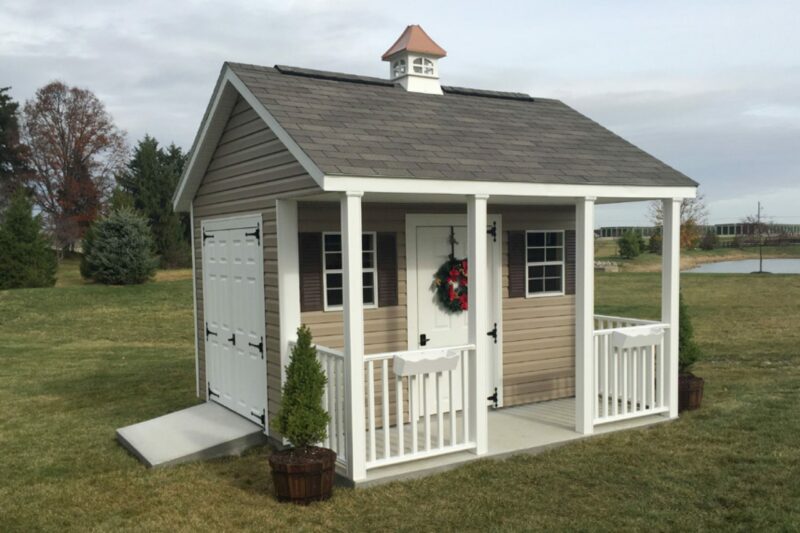 Relax in style in your backyard with these beautiful cabin sheds. Whether you are just needing a backyard relaxing space with some storage or are in the market for a guest house shed near Columbus, these cabin sheds are great options.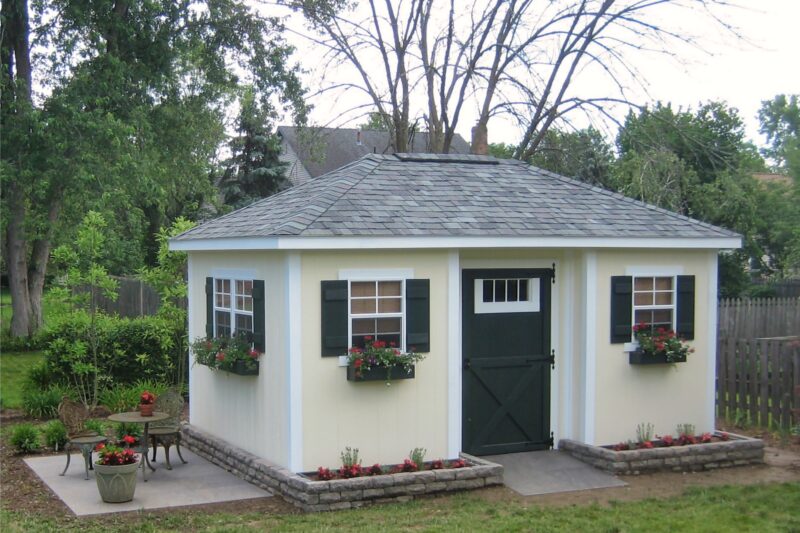 If none of our others styles of sheds near Columbus strike your fancy, we can design a custom shed exactly to your specifications. We have designed and built everything from custom pool houses to man caves and more. If you can dream it, we can build it.
Prefab Garages in Columbus, Ohio
We also build garages and have a variety of prefab garages for sale near Columbus, Ohio. Our two standard garage styles are the gable garage and the highwall garage (linked below). However, if you want a garage door added to one of our other shed styles we can also custom build a garage shed and deliver it to your home in Columbus. Our garages have hefty 2×8 treated floor structures to ensure that they will be able to handle your vehicles or backyard equipment. We can either pre-build our garages or build them on-site at your location. On-site builds allow you to have a concrete floor if you prefer that option.
Rent to Own Sheds in Columbus
Rent to Own is a great option for you if you are renting a self-storage unit and are unable to pay upfront for a storage shed. Our rent to own program gets you your own storage space NOW with No Credit Check and Low Monthly Payments.
Choose Your Dream Shed or Garage
Reserve with 2 Months Rent Up Front
Make 36 Monthly Payments for full ownership
Sheds Built On-Site in Columbus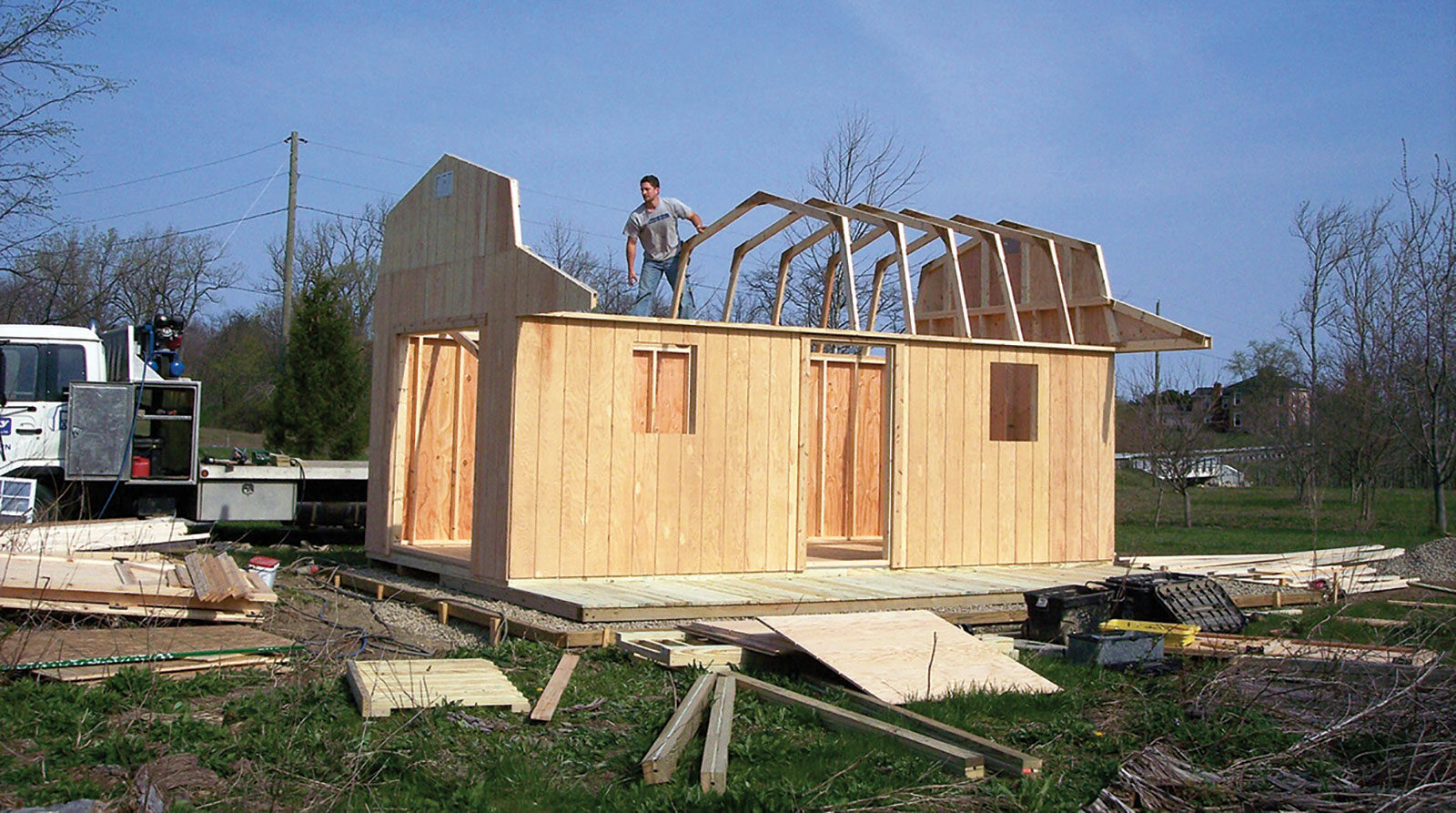 If your shed site in Columbus does not allow us to deliver a prefab shed, we can easily build your shed on site. We have a skilled team of craftsmen who will bring all the materials to your site and install the shed at your location. For on-site builds we pre-fabricate all the pieces that we possibly can at the shop and then just put them together on your site. If your site is well-prepared ahead of time our shed crew can often put your shed together in a few hours. Request a quote at the button below to get an on-site shed in Columbus.
Gallery of Available Sheds in Columbus