Welcome, Friends!
We are a small, family-owned and operated storage shed company in Plain City, Ohio. My father, Lawrence Beachy, started Beachy Barns in 1982 in a machine shed on our family farm. From the early days I was involved in this family business as we worked to create high-quality backyard barns. Much has changed since 1982, but high quality storage barns and happy customers are still our goal.
I am grateful for the heritage that is in the DNA of our company. The work ethic, quality craftsmanship, and customer service that has been handed down from one generation to the next is the foundation for your experience with our company today.
Today, we are proud to offer an extensive line of custom sheds, prefab garages, cabin sheds, and more. Our products are still made and sold on the home farm in Plain City, Ohio and through a network of authorized dealers throughout central Ohio.
We look forward to providing you with the Keys to More Space.
– Dale Beachy (President)
A Good Heritage
A Tribute to Lawrence Beachy (My Father)
Written by Dale Beachy, March 2016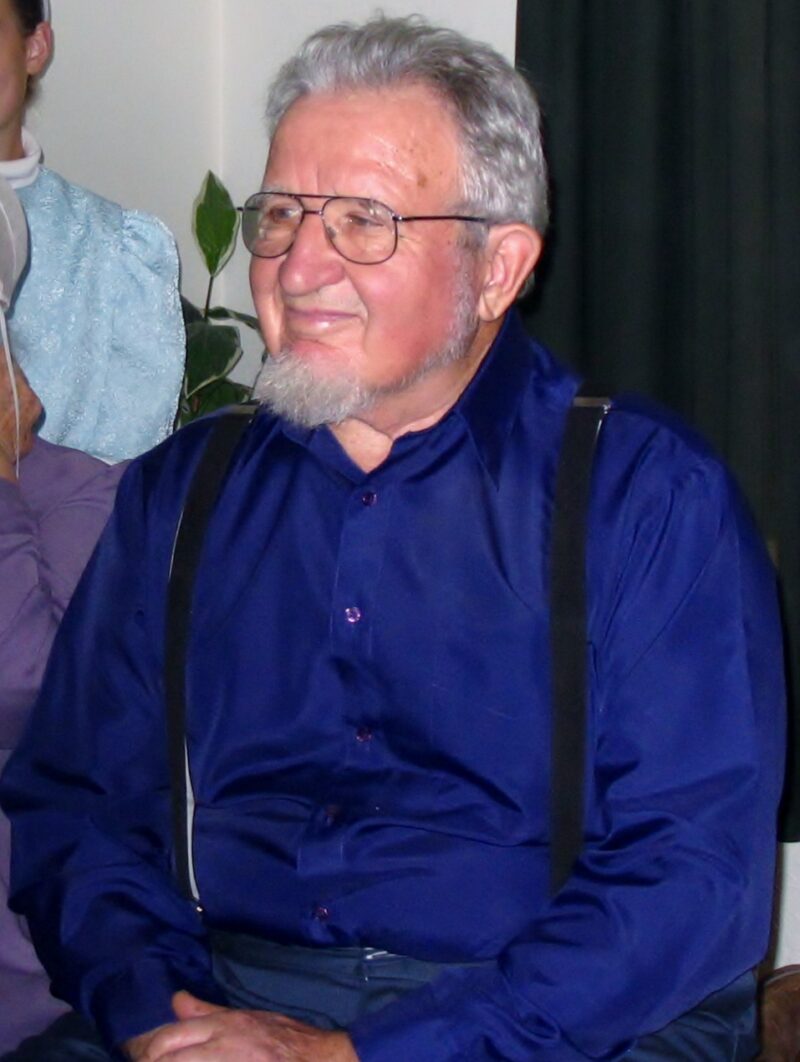 This month, March 13th to be exact, is the birthday of our founder and my father, the late Lawrence Beachy. I feel it is fitting to pay tribute to him in honor of the values that he instilled in us and in our company.
Dad was born into an Amish family in 1930 as a twin, numbers 9 & 10 in a family of 6 boys and 6 girls. Dad was a farmer all his life, but also bought a backhoe from a local farmer sometime around 1959. This backhoe remains in the family to this day. He became the first person in the Plain City area to have a backhoe and do custom excavating on a full-time basis. In 1971 he was ordained as a minister in the local church. This led him to discontinue his excavating business to allow more time for his church work. In the early 80s land prices soared and the land he was renting sold at a higher price than he was willing to pay, so he started looking for other options. At the same time, Dad was also wanting to provide a job for me so that we could work together. After doing some research, he purchased a farm and we setup shop in the old machine shed. In the fall of 1981, when dad was 51 (my age today), we built several buildings and the following year was our first full year in business. As the business grew, farming was eventually discontinued.
In the early years of the storage shed company Dad was involved in every aspect of the business – selling, building, delivering, buying materials, etc. As time went on and more people got involved dad became the primary delivery driver and did that until he was well over 70.  He spent his extra time doing odds and ends around the shop that no one else got done. Because the shop was at home, lots of evenings after supper were also spent tinkering around outside. Even though his physical and mental health declined rapidly in his last 6 months, he still showed up at the shop almost daily until his dying day.
Dad was always more concerned about giving the customer a quality product at a fair price than about making big money. He was more careful about the building he delivered to the customer, than he was about the vehicle he used to get it there. A scratch or dent on the truck was not a big deal. But a little mud track on the floor of the new building had to be cleaned before it was delivered. He was a stickler for having cuts and joints fit tightly and looking neat. He firmly believed that higher quality materials also made for a better-looking product. Taking an extra 5-10 minutes for those details was of utmost importance. He insisted on high quality materials and craftsmanship.
Did I mention Dad was not concerned about how the vehicle he drove looked? That is actually not quite true, but in a different way than for most of us. Dad never wanted any of his possession to be attention gathering. He wanted his house, car, equipment, etc… to be practical and useful, not for show. He said, and I believe him, that if someone would have given him a luxury car, he would not have driven it because he didn't want to be known for his possessions. He wanted to be remembered for honesty, integrity, and providing a superior product at a reasonable price.
Even though Dad went to his reward in Sept 2007, it is still a common occurrence to this day for customers to tell us about how the old man with the little white beard delivered their shed. Some can go into great detail of how the whole process went 15-20 years after it happened. I personally don't remember too many delivery drivers from that long ago, but obviously dad made a lasting impression on many people.
Dad is no longer with us, and things have changed over the years. What has not changed is the fact we will continue to do our best to provide the level of quality storage buildings and customer satisfaction that has been in our DNA from the beginning. It is our goal to carry on the traditions and values that have gotten us to where we are today.
Our Team