How Will You Use Your Storage Shed?
Our storage sheds are incredibly versatile and have helped thousands of families unlock more space in their backyards.  Here are 3 common ways you can benefit from having a storage shed.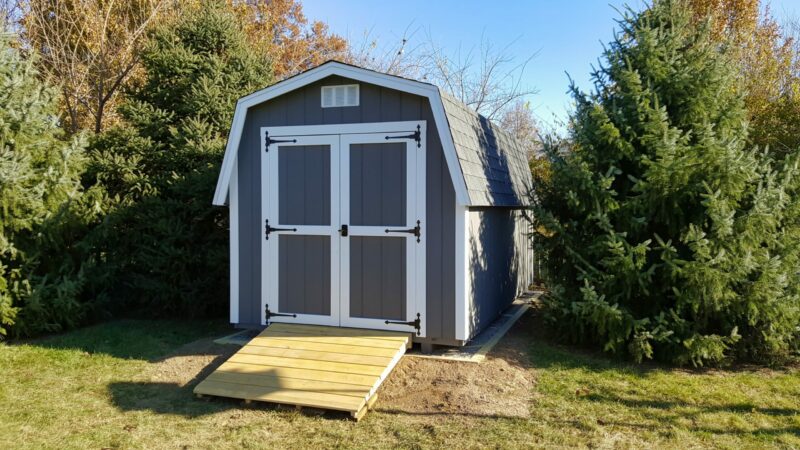 Space for Gardening Equipment
Are you stressed about your kids or your pets getting into trouble with your gardening equipment sitting around?  Storage sheds allow you to store all your gardening equipment like a lawnmower, leaf blower, watering house, rakes, hedge, and lawn shears, pruning saw, wheelbarrow, chemicals, etc. Plus, you can use creative organization hacks to organize your equipment inside the storage shed. For smaller equipment, you can use a solid magnetic bar, pegboard, or add open shelving. You can utilize your storage shed wall space for rakes, shovels, hoes, and pitchforks by making a handmade organizer.
When you are organizing your storage shed, one of the essential things to keep in mind is to keep your weed killer, pesticide spray, and all other potentially hazardous items in one place, out of sunlight, and out of the reach of your kids and pets. Next, let's talk about hoses and cords. You know how easily cords and hoses become a tangled mess on the floor. The best way to avoid the headache of detangling them again and again is to acquire some hooks to hang them upon.
Wow, congratulations! You have an organized storage shed that allows you to have quicker access to your daily gardening tools. You can gather tools, seed, and potting soil in a couple of minutes. Your garden and backyard looks better than ever! All your garden equipment is safely and beautifully stored within your new storage shed. Plus, with the addition of a storage shed, your property value increases since buyers view a storage shed as a property bonus.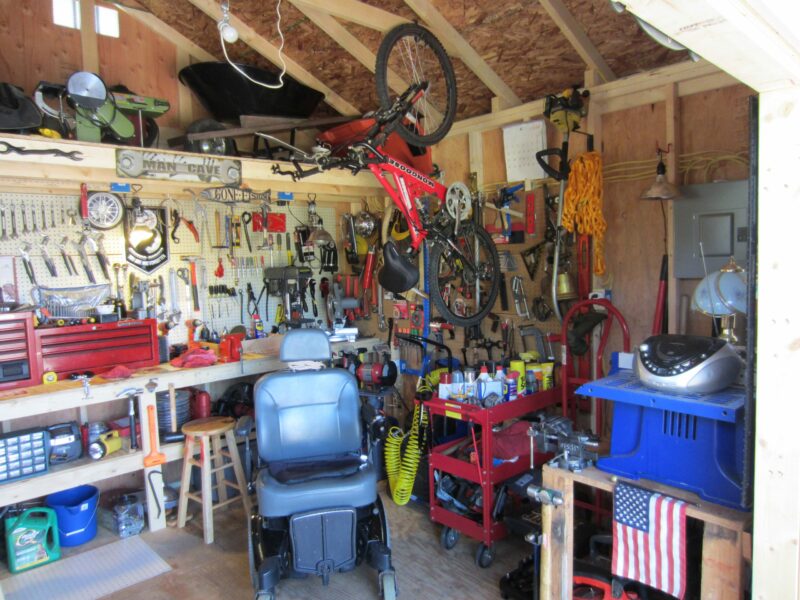 Safe and Organized Tool Storage
Are you a handyman with a lot of different tools? Are you tired of not being able to find the right tools when you need them? If so, you need a storage shed. An organized tool storage shed is ideal for a couple of reasons. First, it is easier to find what you need when there is a designated space for each tool. Second, it is safer for your family since it keeps sharp tools away from your kids and pets. Lastly, your tools are preserved and protected from weather and burglary.
You can organize your storage shed with open shelves, hanging jar organizers, pegboards, or magnetic bars for smaller tools. Storage sheds are great for storing power tools like air compressors, pressure washers, electric drills, electric sander, etc. Enjoy feeling the power and satisfaction of knowing the exact location of your hammer and nails as you prepare to heroically fix the cupboard door or hang a picture for your lady.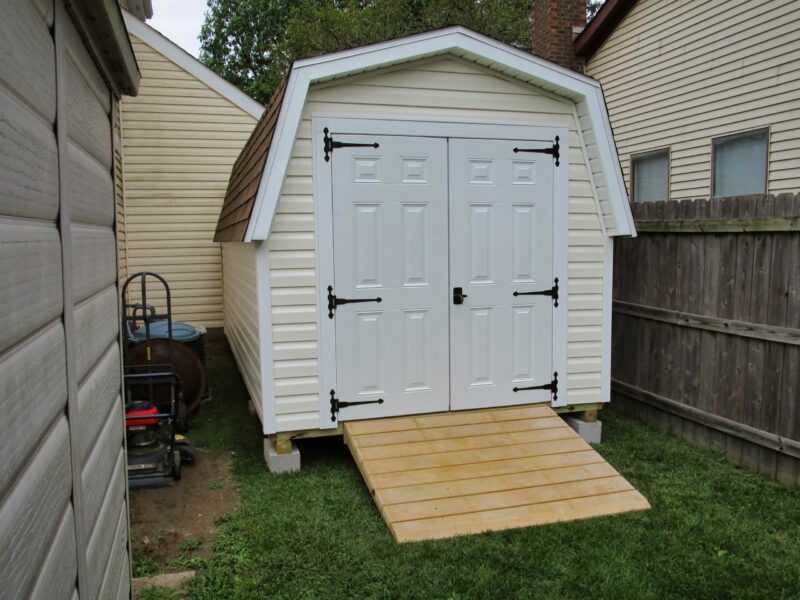 A Place For Extra Household Items
Do you have a lot of extra household items that do not have a satisfactory storage space? Are you tired of feeling cluttered or overwhelmed by too much stuff and not enough space? No problem! You can store all your extra household items, even your cleaning supplies, inside an organized storage shed. Using a storage shed to store your household goods is a very smart thing to do. It gives you a heads up on what items you could sell on Facebook Marketplace, give as gifts to friends, or which ones you regularly use in your house.
For organizing your household items within your shed, you can use floating shelves or adjustable shelves and if your shed ceiling is tall enough, add overhead storage shelves or a loft. With the addition of a storage shed in your backyard, you add value to your property, declutter your home from unused items, keep a better tab on your important, surplus household items, and enjoy a more orderly and organized house. Sounds like a freeing and refreshing win all the way around!
How large of a shed do I need?
Do you want to know how large of a shed you need? When the time comes to buy a backyard shed thoughts always turn toward choosing the right size of shed. Factors to consider for choosing your ideal shed size, include, what all (write a complete list of potential items) your shed will hold, the size of your backyard, your shed's purpose, and community regulations. Check out this quick reference guide below!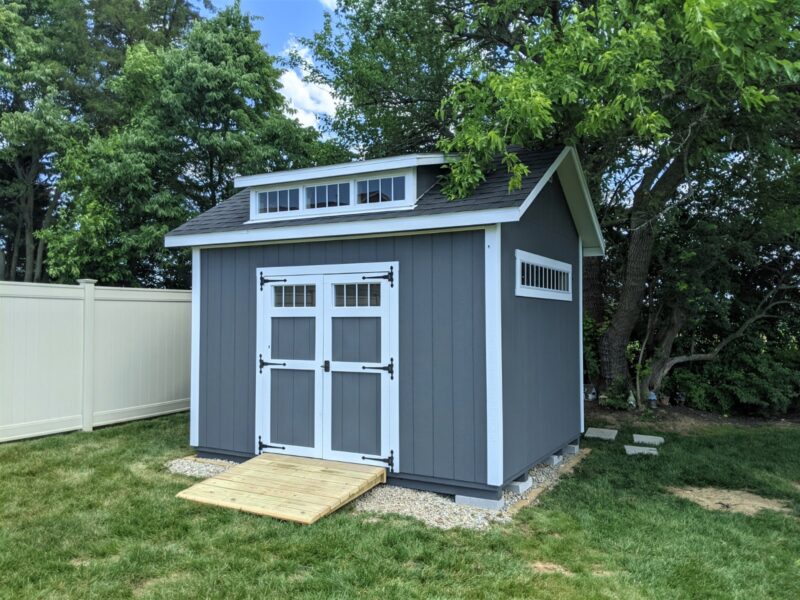 Small Size Shed (10×12)
With the growing popularity of smaller houses, people are getting small-sized sheds for more than just storing the lawnmower. The good thing about a small shed is that it can fit anywhere in your backyard or garden while still offering sufficient storage space. A 10×12 shed is excellent for your garden tools, firewood storage, bicycle storage, patio furniture storage, lawn tool storage, and more. Plus, in a lot of cases, you do not need a permit to own a 10×12 shed.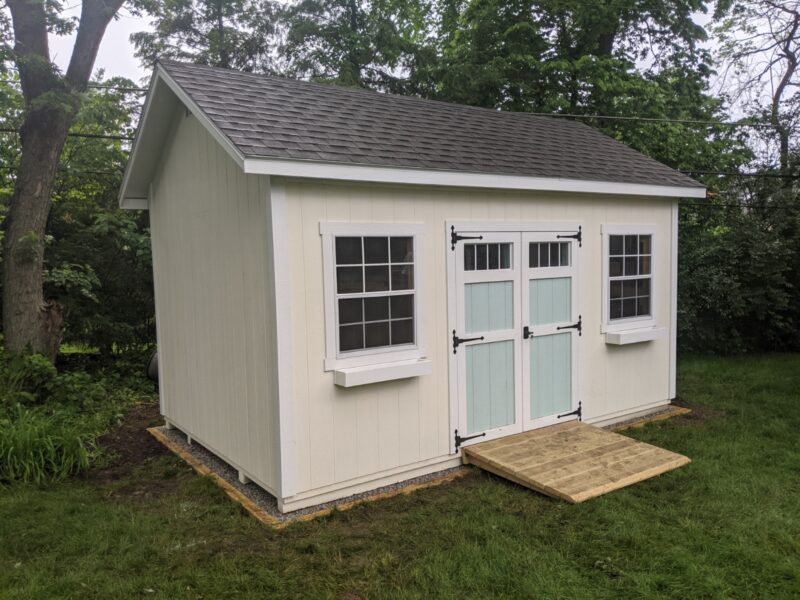 Medium Size Storage Shed (10×16)
A 10×16 size storage shed is great for storing leaves, blowers, snow blowers, motorcycles, and more. 160 square feet of storage space will certainly help you declutter your garage.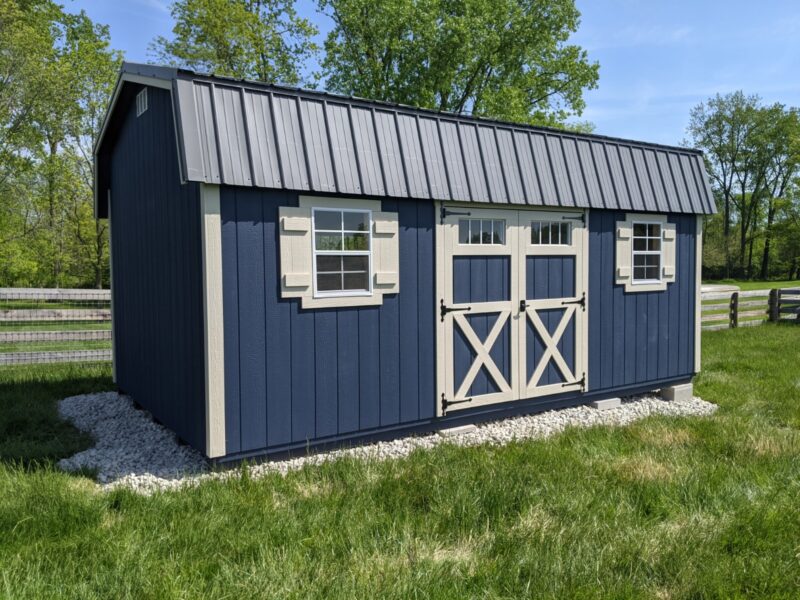 Large Size Storage Shed (12×20)
The best uses for a 12×20 size storage shed are storing motorcycles, small boats, tractors, bicycles, snowmobiles, and traditional tool storage. Plus, a shed this size can also help organize cluttered or unused items from your house and garden.
What should you not store in a storage shed?
While you can store furniture and many other household items inside your garden shed, there are also things that should be avoided or packaged carefully. Never store gasoline inside your shed. Other items that you should never store unprotected inside a storage shed are musical instruments, artwork, photos, important documents, clothing, and bedding.
Ready To Get Your Own Storage Shed?
Beachy Barns is a small family business that builds high-quality storage sheds which you can customize for your specific needs. Explore our options and get a quote today!