Superior Sheds in Dayton Ohio
Overwhelmed with too much stuff? Need a bit more space? Beachy Barns is a family based business that is proud to provide top notch storage sheds in the Dayton Ohio area.  We do not take a one-size-fits-all approach.  We will work with you from concept to completion of your new portable building or shed in Dayton.  We have a beautiful array of styles to choose from which can be customized in nearly any size and color to fit your specific needs.
Sheds and Prefab Garages In Dayton Ohio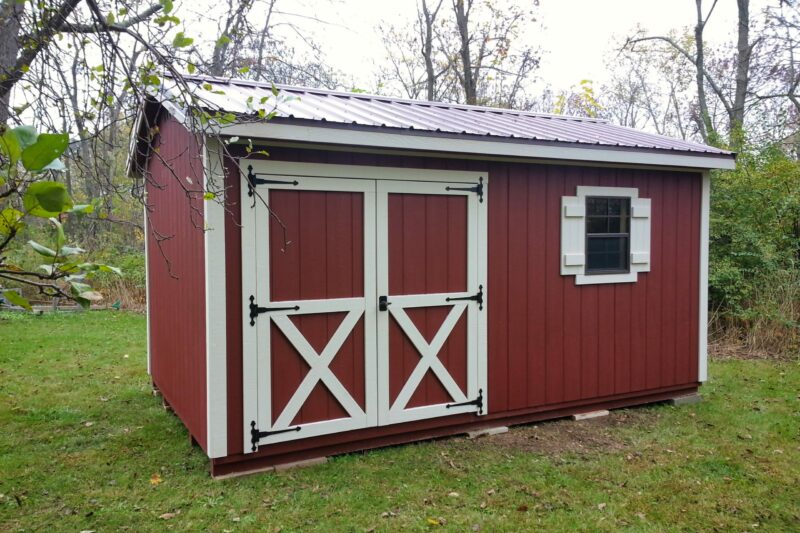 The Gable shed is a timeless classic and the most popular shed in Dayton that we sell. It sports a simple contemporary design that adds will add a pleasing, but not overbearing aesthetic to your backyard.  The interior layout is simple and can be easily organized according to your needs.  Doors and windows will look great in nearly any configuration with this shed style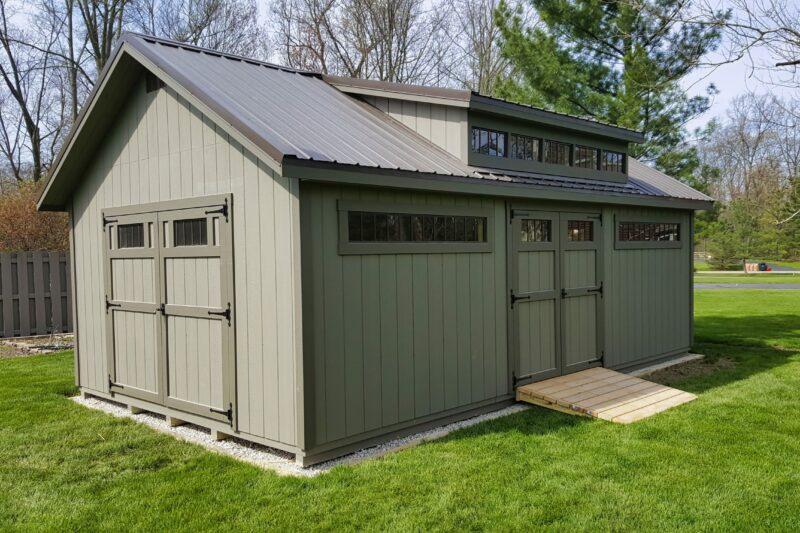 Add some style to your backyard with our cottage style sheds. These sheds have a very modern look and can make your backyard look brand-new. If you are looking for sheds in Dayton, you have come to the right place. We strive to give our customers the very best customer service available.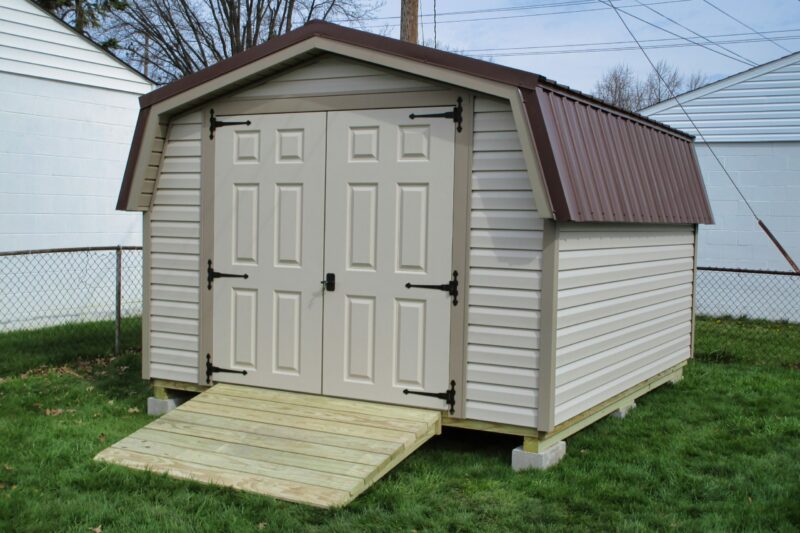 Are you in need of more space on your property? Get all the extra space you need with our Mini Barn style sheds. These sheds are in fact very simple yet serve the purpose they were made for Storage. These sheds are great for storing garden equipment such as lawnmowers, snowblowers, and much more.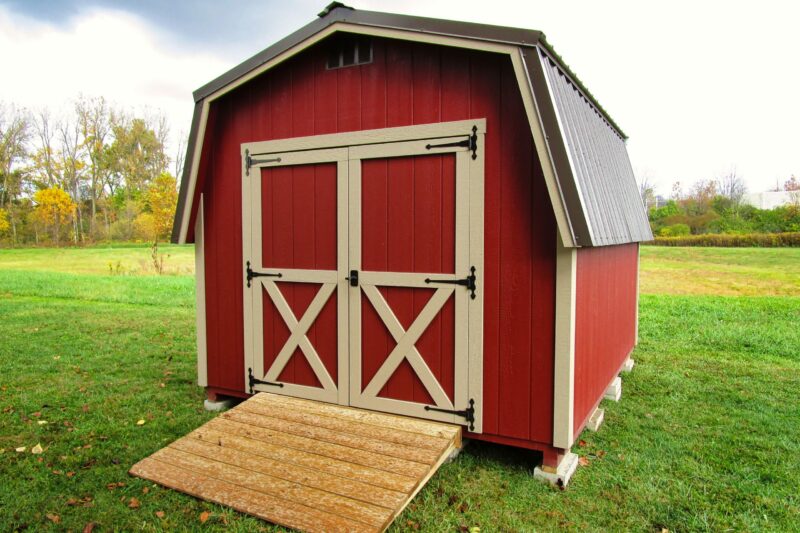 The classic shed is the original shed style that we built. It maintains the attractive barn look of the mini barn but offers much better headspace and the option to add a loft for additional storage space.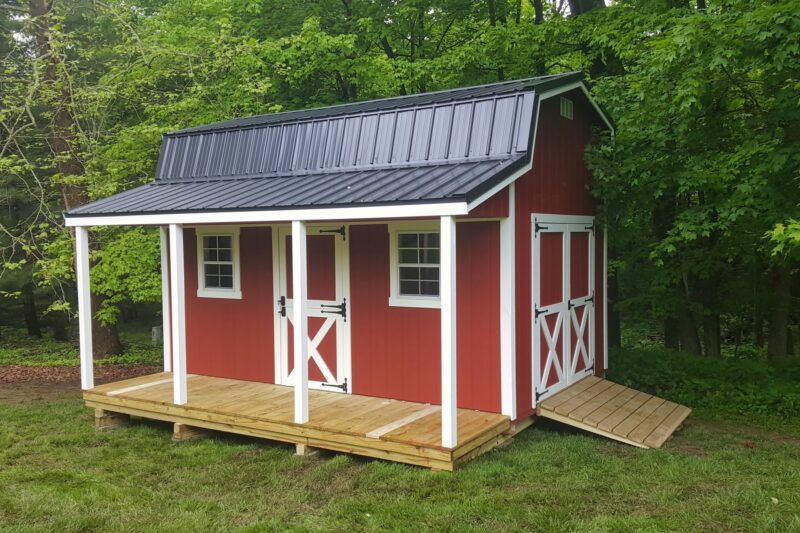 This classy-looking shed is our Retreat style shed. The 4′ wide porches on this prefab shed design is a great area for a rocking chair or a convenient place to stack firewood. This building comes standard with a porch floor and porch posts. Porch railings are available as an optional add-on. If you are looking for a cabin shed in Dayton Ohio, you have found the right place.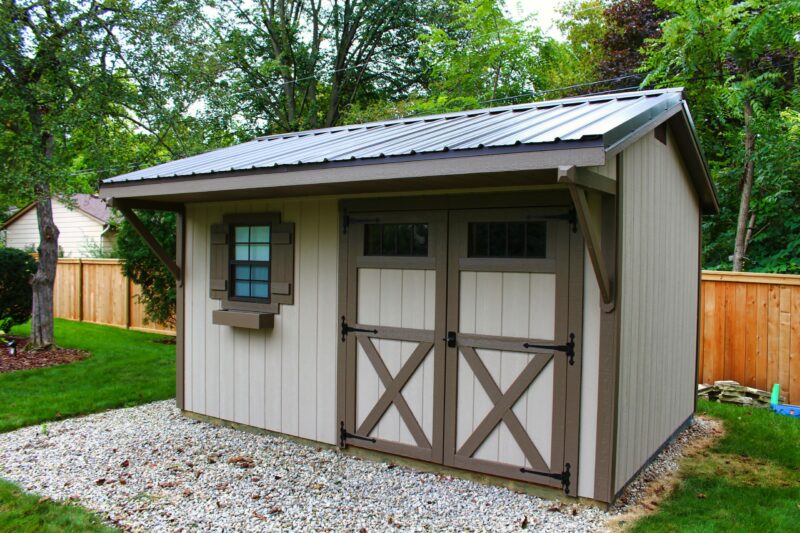 The Quaker Shed is a unique design that is identified by the offset peak and extended roof overhang.  The roof design offers rain protection when opening the doors, and also gives it a classy feel.  It makes a fantastic storage shed, but also adds aa touch of elegance if you are going to use it for a home office or she shed etc…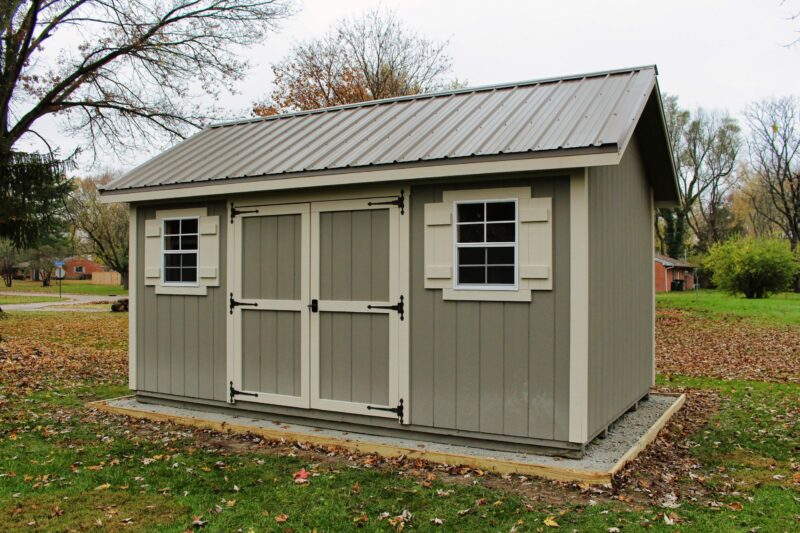 The Cape Cod shed takes the Gable shed to the next level.  This style offers a steeper roof pitch with is especially practical if you want a loft inside for additional storage space.  The extra head space in the interior also makes it a great pick specialty uses like she sheds, home offices, or backyard studio sheds.
Prefab Garages in Dayton, Ohio
We also build garages and have a variety of prefab garages for sale near Dayton, Ohio.  Prefab garages are an excellent affordable option versus a traditional garage.  They can also be installed in much shorter lead times than traditional garages.  Our prefab garages in Dayton are built with strong 2×8 treated floor structures and will have no problem storing vehicles or heavy equipment.  If you prefer a concrete floor in your garage, we will be happy to accommodate you with an on-site build.  The two standard garage style choices are the gable and highwall garage.  But you are not limited to those two styles.  A garage door can be added to any of our shed models.
Rent to Own Sheds in Dayton, Ohio
Rent to Own is a great option for you if you are renting a self-storage unit and are unable to pay upfront for a storage shed. Our rent to own program gets you your own storage space NOW with No Credit Check and Low Monthly Payments.
Choose Your Dream Shed or Garage
Reserve with 2 Months Rent Up Front
Make 36 Monthly Payments for full ownership
Sheds Built On-Site in Dayton, Ohio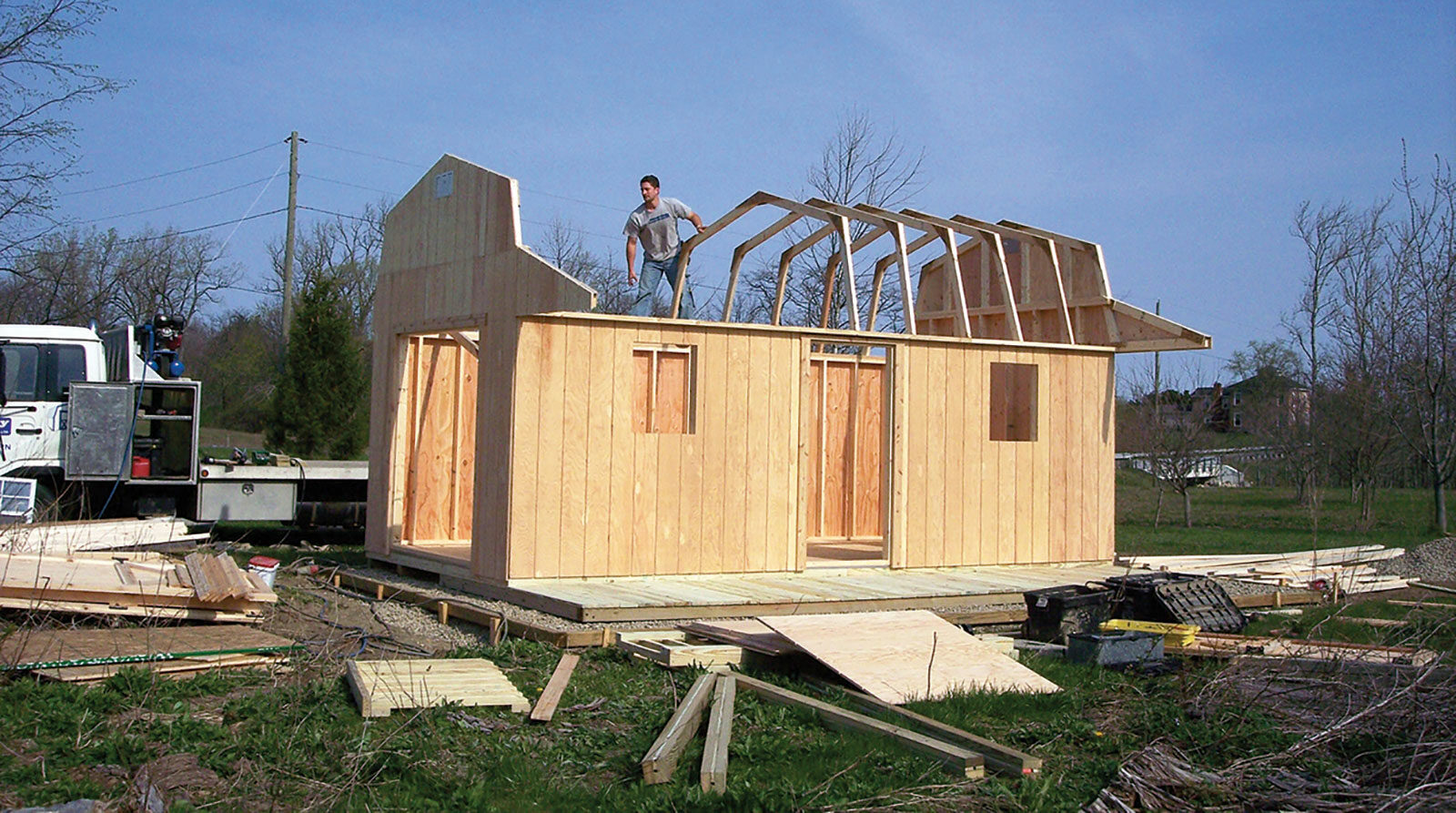 Are you concerned you don't have space for ease of delivery of our prefab sheds? This is a typical problem when homes have a fenced in back yard.  In cases like this, our team of skilled craftsmen will bring all the materials to your site and install the shed at your location. For on-site builds we pre-fabricate everything that we possibly can before we get to the shed site.  Using this method, an on-site shed build in Dayton can often be completed in a few hours. Request a quote at the button below to get an on-site shed in Dayton.
Gallery of Available Sheds in Dayton