Storage Sheds in Springfield Ohio
We are pleased to hand build some of the most beautiful, highest quality storage buildings and prefab sheds in Springfield Ohio.  We are a family-owned company based in Central Ohio that loves delighting our customers with storage sheds that offer beauty and durability.  Our sheds can be custom built and utilized for many needs.  Need space for gardening equipment? Cleaning out the garage?  Need a she shed, man cave, back yard office or guest quarters? We would love to help you with all of the above and more!
Available Styles of Sheds in Springfield Ohio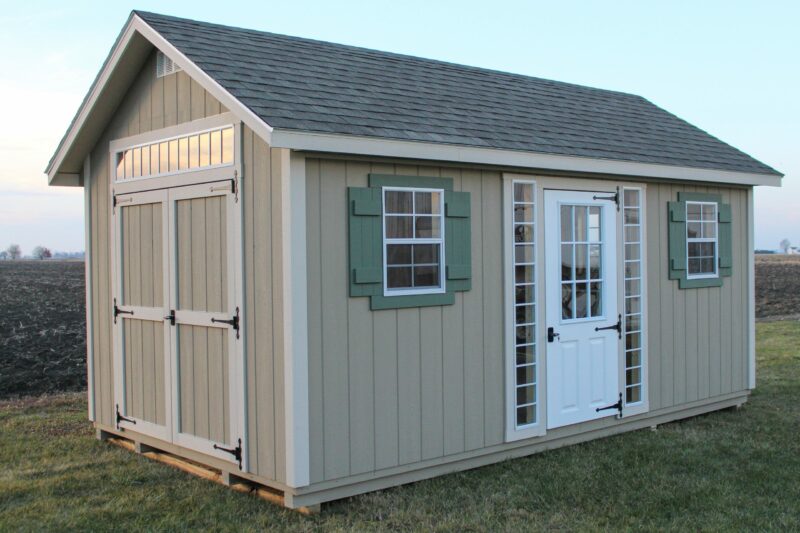 Gable Shed in Springfield, Ohio
The Gable Shed style is a contemporary A-frame build.  This is the ideal shed if you need simple storage space and but would like a lot of flexibility with how you use the interior. This shed will look good customized with a variety of layouts.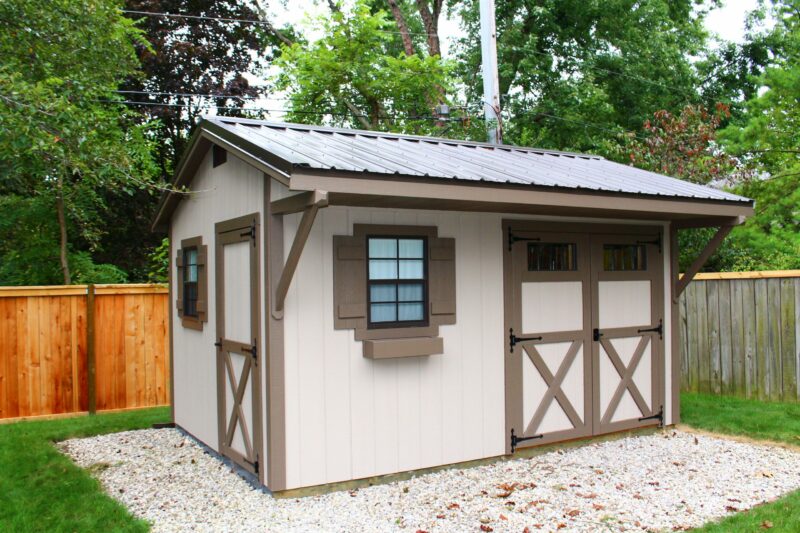 The Quaker Shed Style adds a bit of "old world charm" to your storage building with its distinctive off set roof and extra overhang in the front.  The extra roof also offers a bit of rain protection when opening and closing the doors.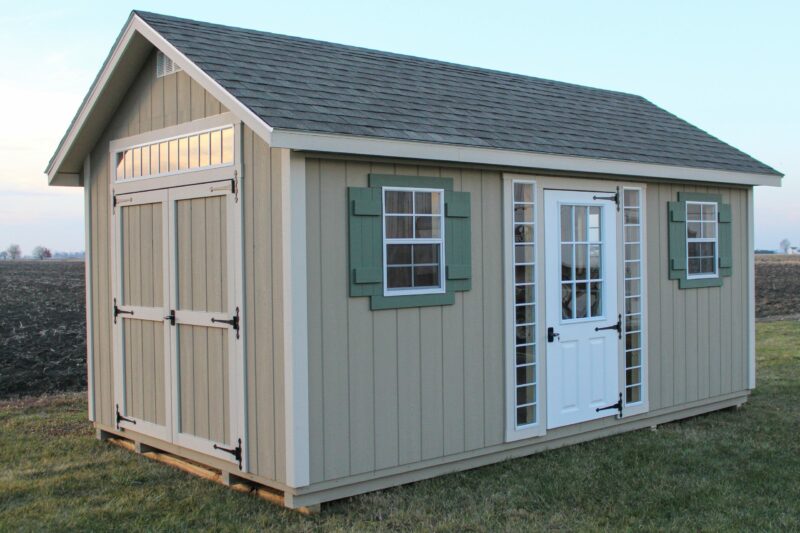 Does your storage shed in Springfield need a bit more class?  The Cape Cod is similar to Gable style, but with a steeper roof pitch, meaning you will have better headroom or the option of adding a loft.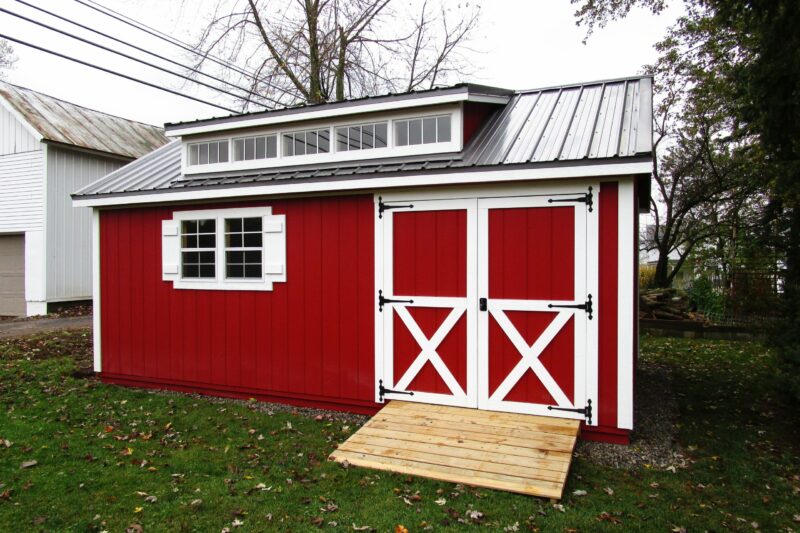 For a truly standout shed in Springfield, go with the Cottage model.  This shed style is particularly ideal for specialized usage, like she sheds, man caves, guest houses, in-law quarters etc… Of course, you still use it as a beautiful storage building!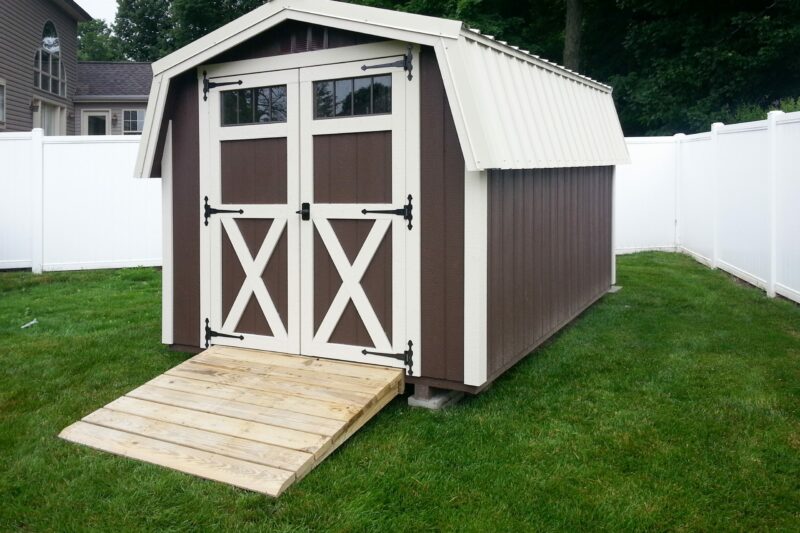 Mini Barn sheds are distinctive by their quaint and cute barn look. These sheds are an economical and practical solution for storing lawn and gardening equipment or for other household organization projects.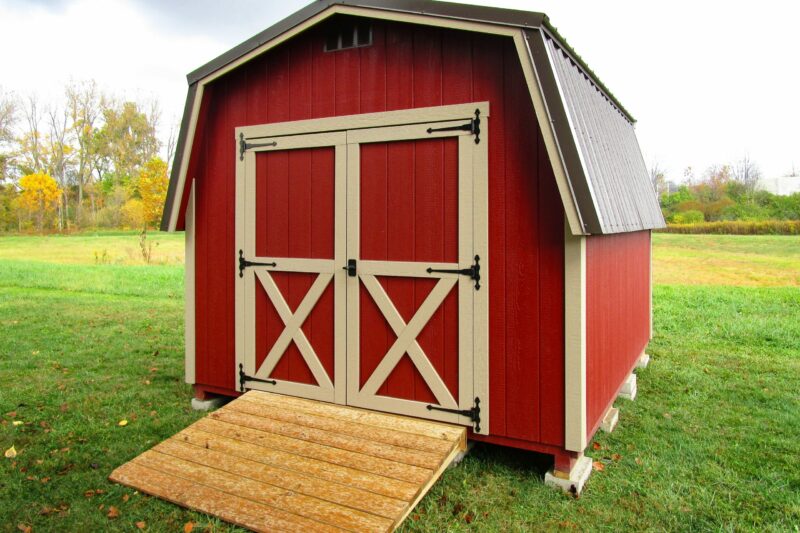 This is a classic style of the shed in Springfield is similar to the mini barn style but adds a bit of extra headroom.  This is the original shed style that we started building on our family farm back in the 80's.  The additional height in this shed allows for an optional loft to create more storage space opportunities.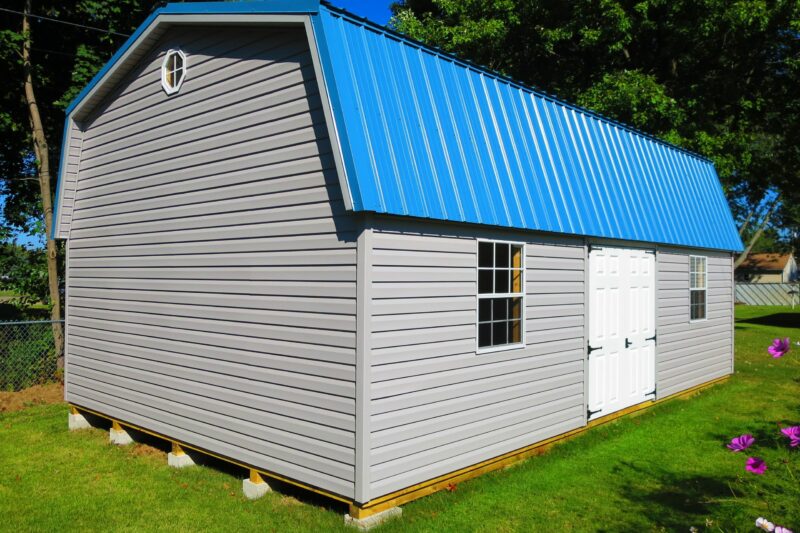 The Highwall style features sidewalls that are 6'4″.  This shed style allows for windows and doors to be placed in any configuration while providing more than ample space for an optimized loft area.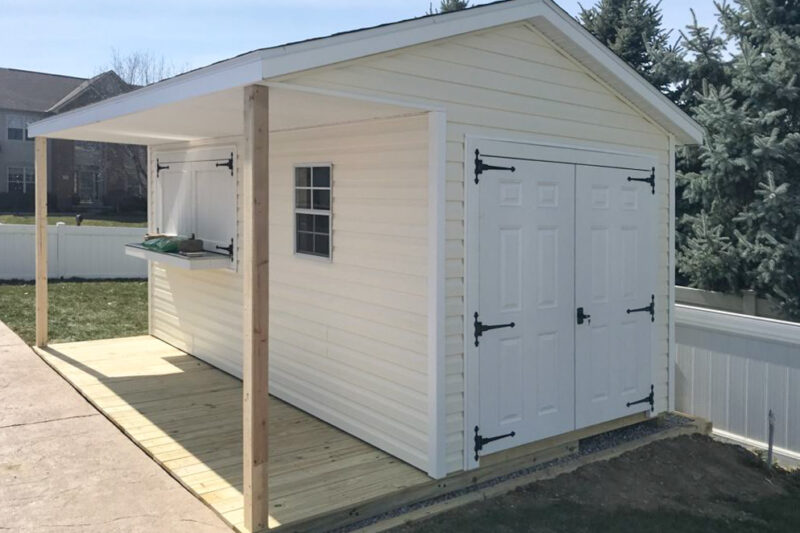 Cabin Shed in Springfield, Ohio
The cabin shed is a truly adaptable and fantastic shed style in Springfield that can be adapted to many uses.  The Cabin style makes a fantastic she shed, pool house, guest quarters… you name it!  For more ideas of everything you can do with a shed with a porch on it, check out this blog.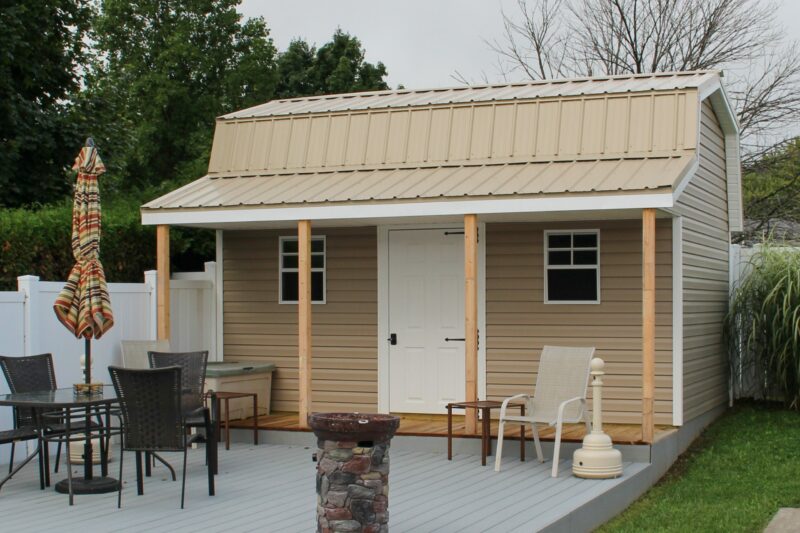 The Retreat style shed is another great option if you want a shed with a porch.  Like the cabin shed, there are an endless amount of specialized uses for a shed like this.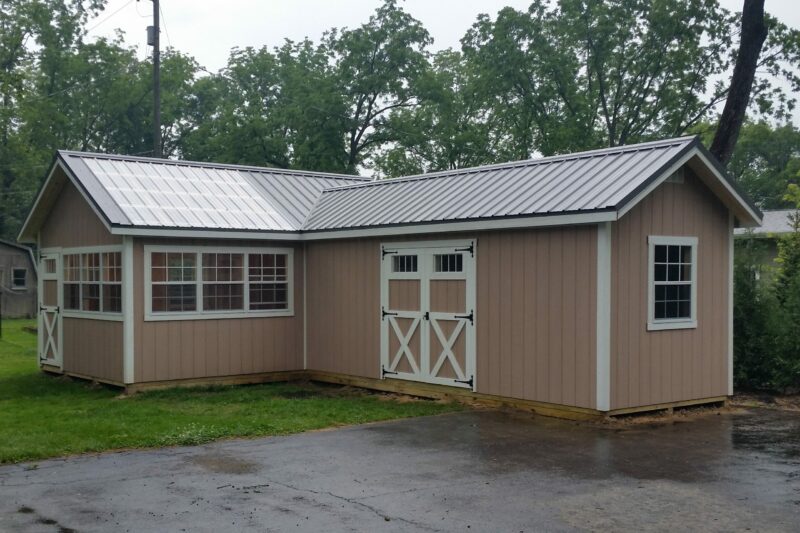 While we aim to offer a wide variety of prefab storage shed styles, some customers need sheds in Springfield that are truly unique.  As a family-owned local custom builder, we are happy to talk with you about your specific needs would be thrilled to help you bring your custom shed dreams into reality.
Prefab Garages in Springfield, Ohio
We build many different styles of prefab garages. The two basic shed models that we use most often in Springfield Ohio area are the Highwall and Gable styles.  However, a garage door can be added to any of our shed styles provided the floor plan is large enough. Our prefab garages in Springfield can be attached to a concrete pad or installed on a stone base.  We generally build them in our shop and deliver for a quick install, but we can also build them on-site. The garage floor comes standard with  2×8 treated floor joists, so you will not have to worry about the weight of storing your car or any other heavy gardening equipment.
Rent to Own Sheds in Springfield
We offer a Rent to Own program that is a great option for you, if you currently have a self storage lease and are not able to afford the upfront cost of a storage shed.   With the Rent to Own program you can have a storage shed now with no credit check and monthly payments that are lower then a self storage lease.
Simple Rent to Own Process
Choose your dream shed or garage
Reserve with 2 months rent up front
Make 36 monthly payments, and you take full ownership!
Sheds Built On-Site in Springfield Ohio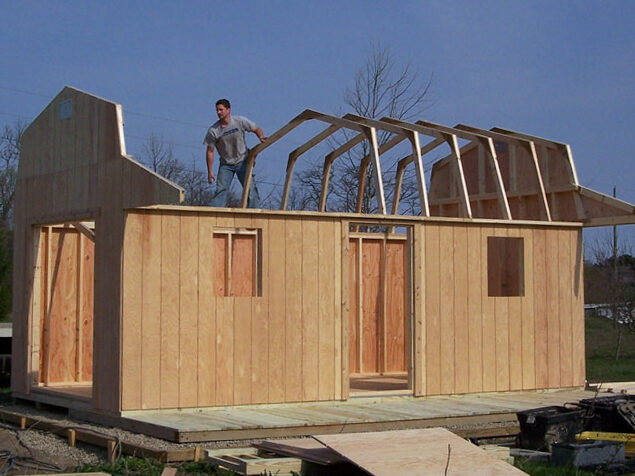 There area many situations that do not allow us to deliver a fully built prefab shed.   If this is your situation in Springfield, do not worry! We have a very skilled team of craftsman that will be happy to bring all the materials to your site for your shed and assemble it on-site.  For on-site builds we always prefabricate as mush as we possibly can in our shop before we come out.  Because of this efficient method, on-site assembly is often completed in less than a single day!
Gallery of Available Sheds in Springfield