A Porch-trait of Sheds
17 Unique Ideas for Sheds with Porches
January 27, 2021 News and Tips
Why buy  just a regular shed when you can buy a shed with a porch?
In some preference surveys we ran on social media, sheds with porches were overwhelmingly favored over sheds without porches. And that was no surprise to us – there's just something charming about a small building with a porch on it.
So, let's talk about the what, the why, and the how of sheds with porches.
What are Sheds with Porches?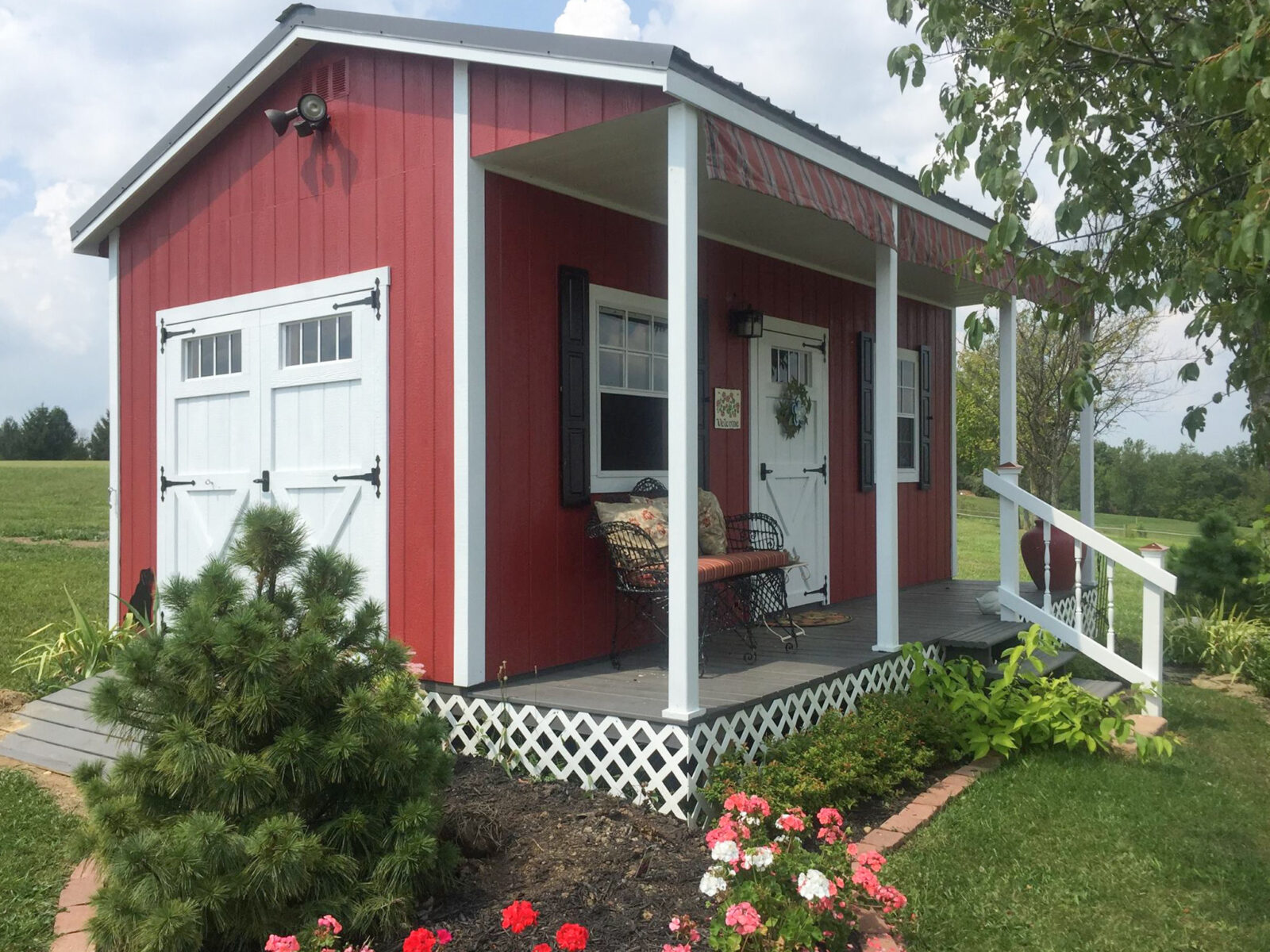 Sheds with porches, sometimes known as "cabin sheds" or "portable cabins", are built using one of the standard shed styles (gable, highwall, quaker, etc…) with a porch added on to it. These are often 4' or 6' covered porches built along an entire side of the shed. It's also common to have sheds built with inset corner porches. These corner porches create more of an entryway feeling to the porch area since it is a smaller porch built around the main door entrance.
Why Would I Want a Porch on A Storage Shed?
There's a lot of good reasons to add a porch to your shed. We're convinced that a shed with a porch almost always looks more inviting and charming than a shed without a porch. It also adds more value to your shed, increasing the overall value of your property in the process. Apart from that, porches can be used for some very practical purposes and can increase the functional value of your shed, making it a multi-purpose building. We'll give 17 ways below that you could make use of a shed with a porch space.
How Could I Use a Shed with a Porch?
We've seen a lot of unique and creative shed ideas over the years. Our customers continually impress us with the customizations they make to their sheds and the ways they use them. Based on ideas we've gathered from our customers and on our own imagination, here are 17 (out of many more) ways you could put sheds with porches to good use.
17 Ways to Use Sheds with Porches
Storage and Relaxation Combo
Of course, we all know that a common shed (without a porch) makes a great storage solution for the lawnmower, garden tools, outdoor toys, Christmas décor (including those big inflatables), and whatever else you need more storage space for. But what common sheds lack is an outdoor relaxing space where you can rest after the lawn is mowed, the garden is hoed, and the kid's bikes are put away. Imagine being able to store your lawnmower, close the shed doors, and crash right into a rocking chair on the porch where you can enjoy the smell of freshly cut grass while sipping an ice-cold cup of lemonade. Need we say more?
Guest House
If you are needing more space to host the in-laws over the holidays, sheds with porches can be a great solution. Using a shed as guest house provides you and your guests some privacy while still allowing them to stay "with you" in your backyard. There are so many ways that you can finish out the interior of a shed, with minimal effort, to turn it into a very attractive and practical overnight guest room. Of course, you can do this with any shed, but when you add a porch into the mix, it really takes your guest space to the next level. Not only does a porch add more of an inviting "cabinish" feel to the building, but it also provides an outdoor lounging space where your guests can enjoy the sunrise on a nice spring morning with a cup of coffee.
Morning Coffee Time
Speaking of mornings with a cup of coffee…that porch doesn't have to be just reserved for guests! How about having a special space in the backyard for you to enjoy the sunrise and the crisp morning air with a cup of coffee. Some of us really enjoy some quiet time of reflection (and coffee) at the start of each day and a shed porch area can be the perfect place to spend that time when the weather is nice. And when the weather is frightful? Well, there's always the inside of the shed…
She Shed with a Porch
She sheds are all the rage these days and we think sheds with porches are great candidates for this rage. We already mentioned the inside potential of a shed for the morning coffee space when the weather outside is frightful. Sounds like a she shed! We have a hard time thinking of any type of she shed that wouldn't be enhanced with a porch space next to it. If you've already been dreaming of a she shed, just add a porch onto that dream. Then you can start dreaming of an indoor and an outdoor she-space.
Pool House with Lounge Area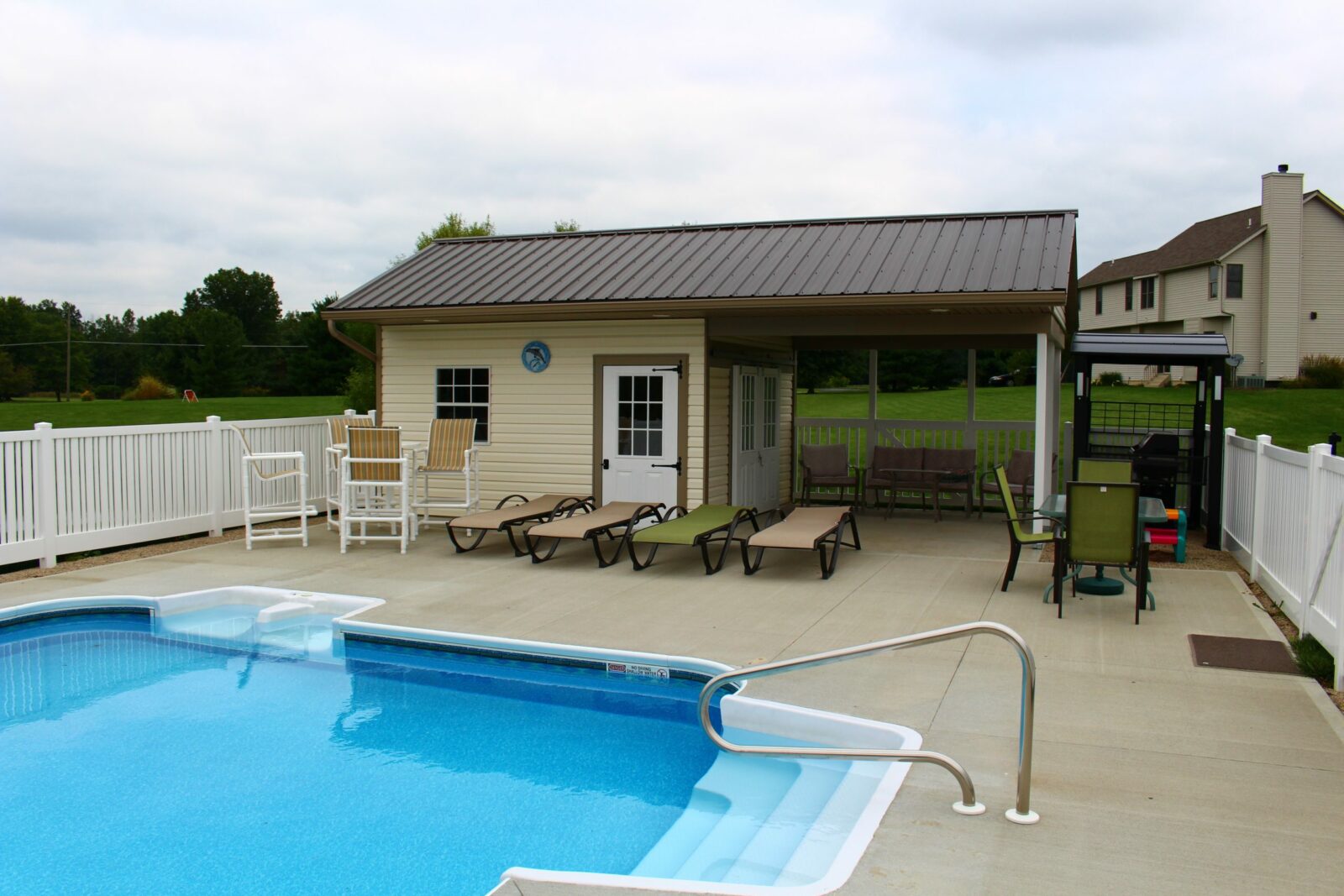 We've built and delivered a significant amount of custom pool house sheds for customers over the years. Some of the more unique and customized projects have been sheds with large porch spaces for a nice lounging and eating area protected from the sun. These pool house sheds with porches make great spaces for serving food and drinks. With a little bit of work you can put a small fridge inside and customize the space for the perfect poolside party headquarters. Adding a serving bar to the shed for serving food from the inside to the outside can really make this space next level.
Hobby Space
Sheds make a great hobby space for almost any enthusiast. If you like putting puzzles together, a puzzling shed is a wonderful thing. If you are an artist, you can turn a shed into an art studio. If you enjoy crafting, quilting, gaming, sewing, bodybuilding, blacksmithing…you name it, sheds with porches on them can make great hobby headquarters. But, if you add a porch space onto your hobby shed, it can take your hobby headquarters and turn it into hobby heaven. When the weather is nice, a porch space can provide a great area to setup outside (out of the sun) to work on a messy hobby project. Or, if you need a space to recover from some intense bodybuilding, or maybe a tough puzzle, you can rest outside in a porch chair with a refreshing drink.
Friend Hangout and Dinner Party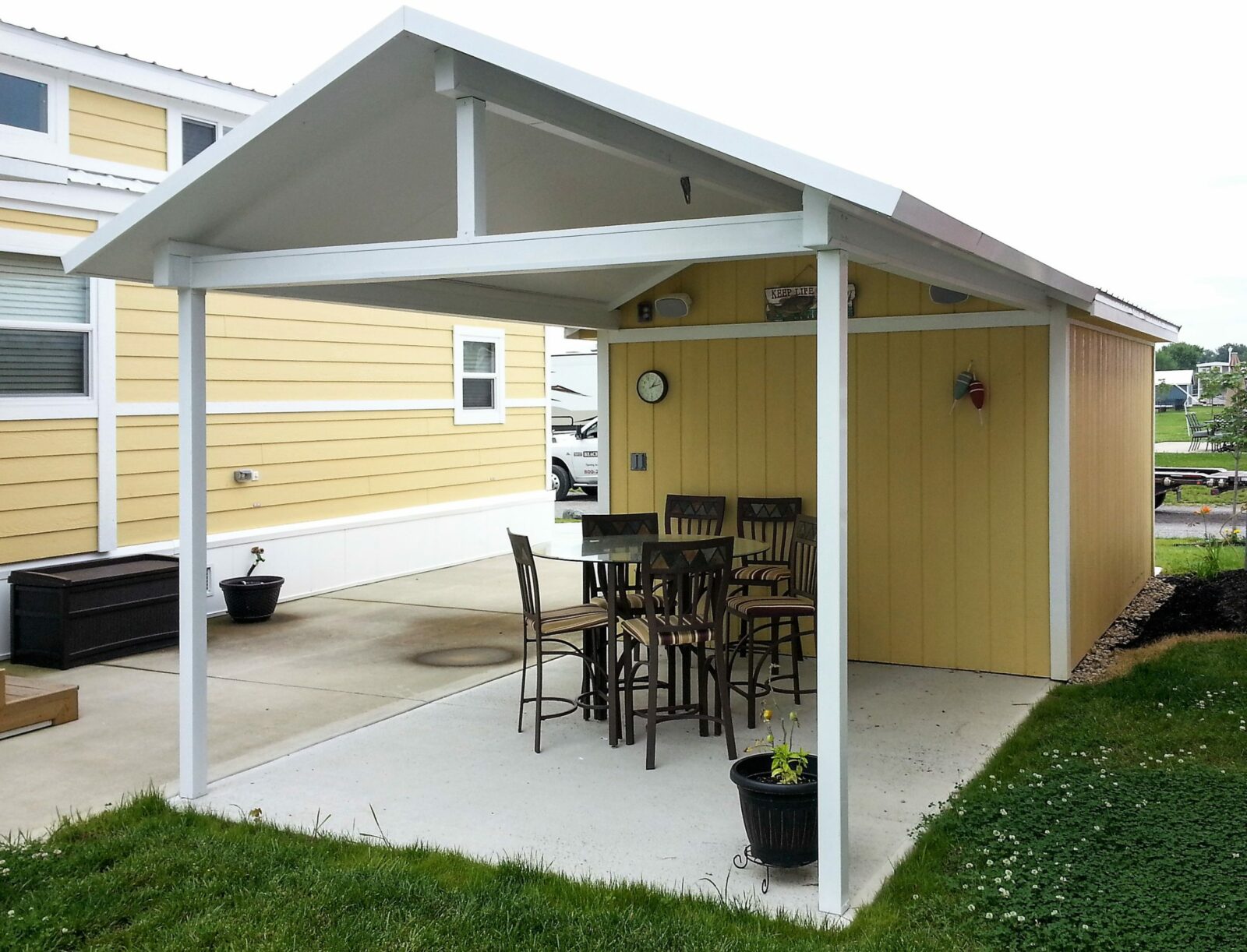 If you love to host friends for dinners and want to setup a special place for serving and dining, a shed with a porch could be a great backyard hosting space. A porch shed gives you the option to setup both an inside and outdoor dining space. Or you could setup the interior for food prep and supply storage with the porch as your dining space. A built-in shed bar would make serving food from inside to outside a breeze. The porch area can be made really nice by running some accent lights around the edges or putting in some tiki-torches. If you get a porch area that is large enough you could even add a barbecue grill to the hosting space and use your shed area as a backyard summer barbecue headquarters.
Garden Shed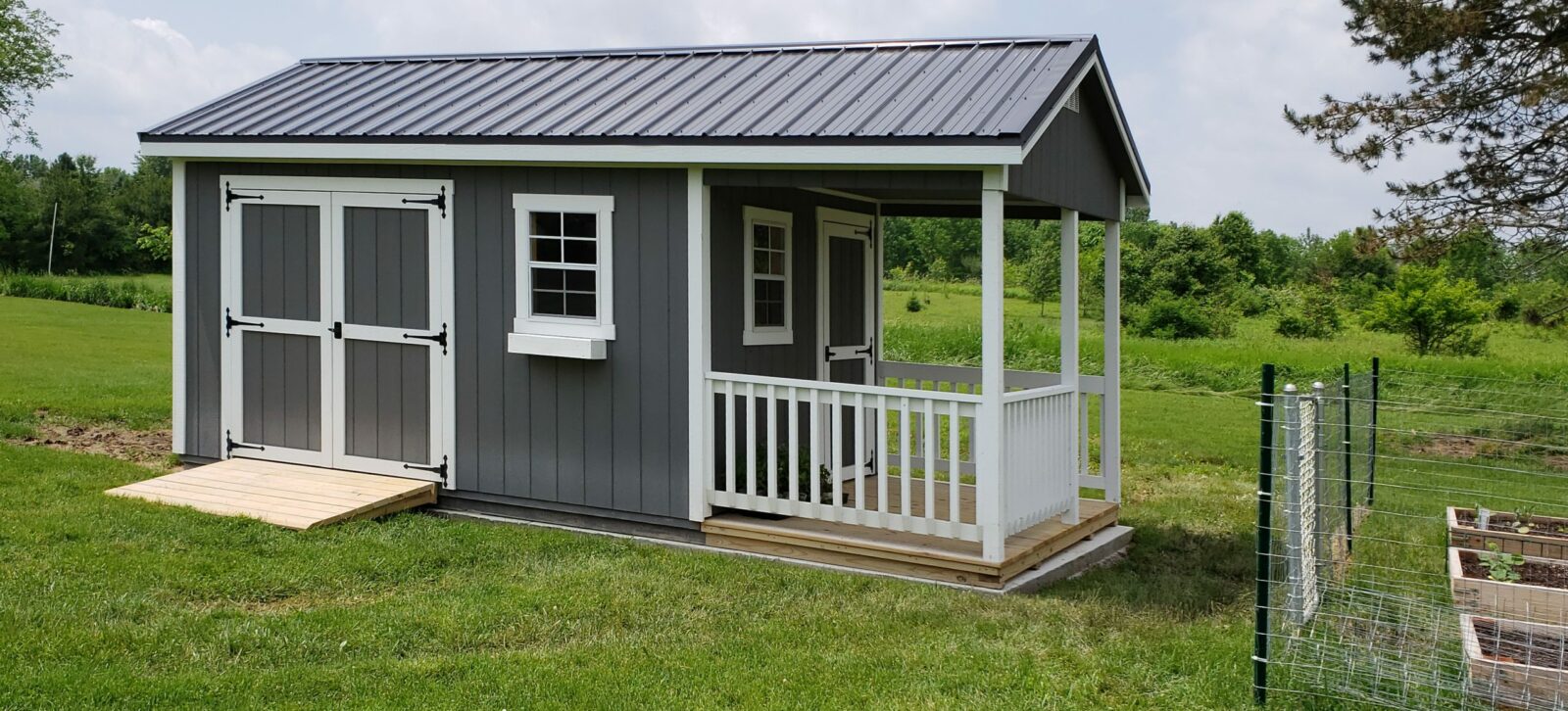 It's likely that you think of garden sheds as just a basic shed used for backyard and garden storage – the place to park the tiller and lawnmower to protect them from the weather. If so, we invite you to reimagine the garden shed. A shed with a porch can take garden sheds to a whole new meaning. Imagine a shed with double doors on the side and a ramp to easily load and unload your garden tiller. Imagine an insulated shed with an interior wall lined with a beautiful work bench, wall to wall windows, and overhead lighting for your seed-starting space in the early spring. Imagine a garden tool rack right inside the door with your garden tools orderly arranged. And, imagine a nice front porch space facing your garden, decked out with potted plants and hanging flower baskets. Imagine relaxing in a rocking chair after the garden work is done and looking on your growing garden in satisfaction. Now that's a garden shed worth dreaming about.
Storefront or Roadside Stand
Sheds have always been a great solution for a roadside stand, concession stand, or any other small business store space. In fact, we wrote a customer story highlighting how Katy from Kitschen Bakery is using her shed for a roadside farm stand. So, it's no secret that sheds make a great selling space. But, we think you could take this concept to a next level using a shed with a porch. The porch space could provide a covered area for serving customers, it could add a space to do more display of your products, or it could even provide some table space for your customers to sit down and enjoy their treats if you are selling food or drinks out of your shed.
Vacation Cabin
Sheds with porches are a simple solution for a cabin. If you own a vacation property, a prefab shed with a porch is an economical and easy solution to get your own retreat space for your getaway cabin. Sheds can be built large enough to give you plenty of space inside for sleeping quarters, living space, bathroom, etc… and a nice porch just adds that nice outdoor area for grilling, relaxing, and enjoying nature. If you make the porch large enough, you could even put in an outdoor hot tub. 😉
Hunting Cabin
Just like vacation cabins, sheds are a wonderful option for a cabin on your hunting property. Whether you need a place to host weekend hunting parties with your friends or just want a quiet cabin to slip away to and enjoy some hunting, a shed with a porch can work well. And if you strategically place your shed at the right spot you could even wrap your porch and turn it into the most luxurious hunting blind around. Who doesn't like the idea of being able to step out of the back of their hunting blind right into a warm cabin to fill up their coffee mug? A comfortable hunting solution like that might even make more people want to get into hunting. 😂
Backyard Date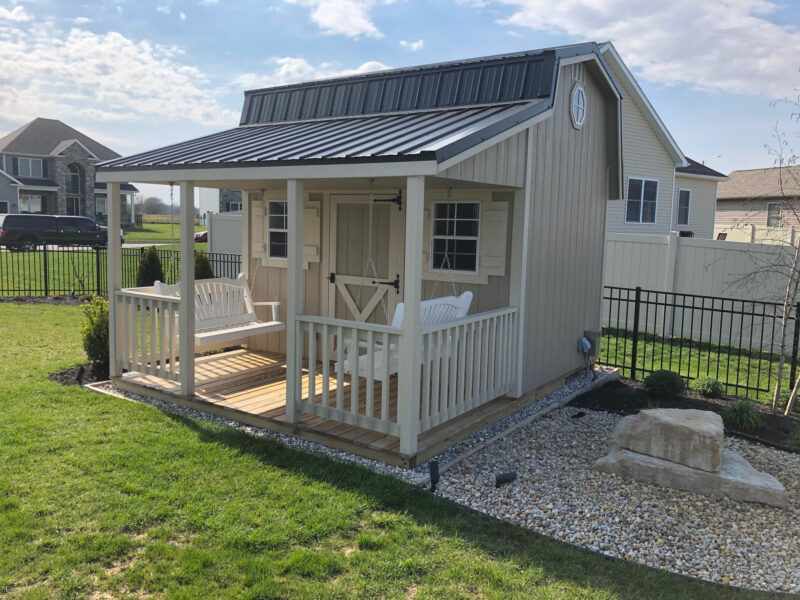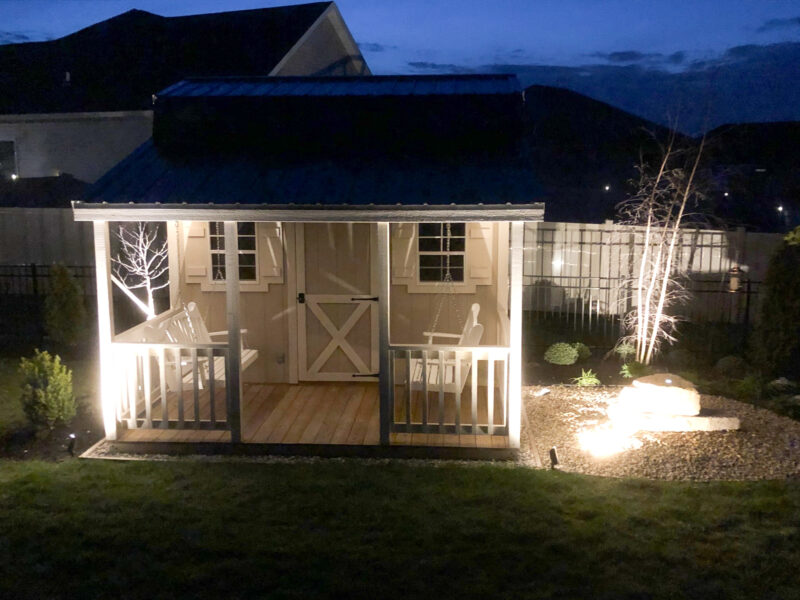 Here's a good piece of advice: Don't ever waste a good opportunity for a date. 😉 And this even applies to storage shed purchases. When you add a porch to a backyard storage shed, it is a wonderful opportunity to create a nice place to spend some time with your partner after dinner, relaxing on a porch swing and watching the sun set.
Playhouse
Small sheds have often been used for playhouses. A nice playhouse shed is a surefire solution to solidifying your status as "best parents" with your kids or "best grandparents" with your grandkids. Memories are made in playhouses and creativity blossoms as children take ownership of their play spaces. A lot of playhouse sheds are built with porches on them. This makes for fun home-like entryway to the playhouse and provides an easy way to add a loft space inside over the porch for the kids to have as extra play space or nap quarters.
Tiny Home Shed
The tiny home trend continues to thrive, and we continue to see sheds be a popular solution for tiny home living. Similar to guest houses, a porch addition to a tiny house shed just adds a more welcoming, "home-like" feel to the building and gives you a great outdoor lounging space for relaxation in nice weather. A covered porch can also be used as an entry area for taking off dirty shoes and even for storing tools and other items in a tiny-home scenario where space is limited. Add some hanging plants or pot some flowers on the porch banisters and you'll have a beautiful tiny home porch space.
After-School Kid's Program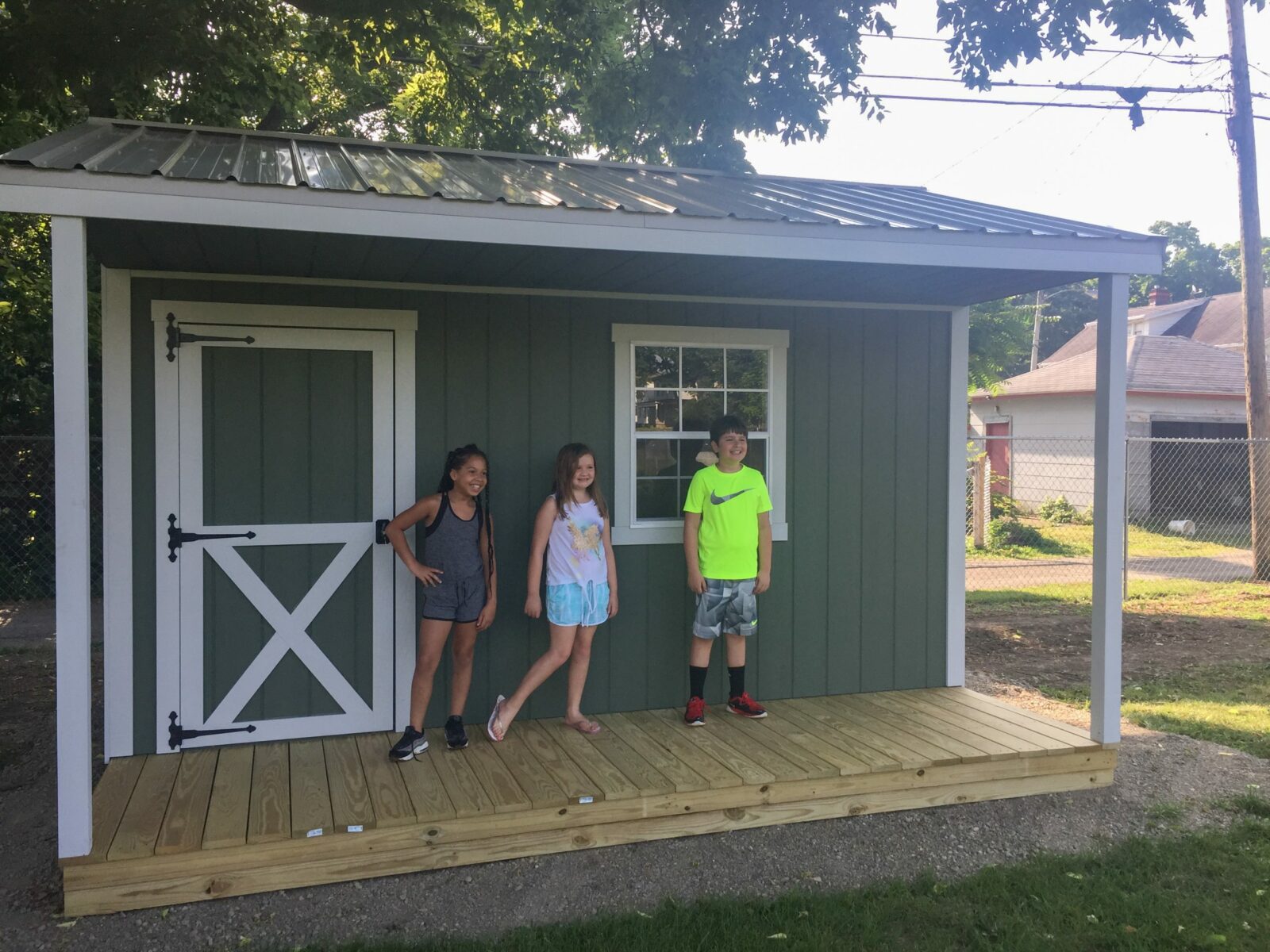 You might be wondering how we came up with this usage idea for sheds with porches. Well, we didn't. Credit for this idea goes to Jefferson Street Oasis, a customer of ours who purchased an 8×14 cabin shed to use a garden project and education center for their after-school kid's program. You can read more about Jefferson Street Oasis and how they are using their shed(s) in this customer story.
Bird-Feeding or Bird Watching
Are you a bird-lover? A shed with a porch can provide you with storage space while also giving you a prime space to hang bird feeders and bird houses. If you fix up the inside nicely, you can relax on a rocking chair by the window and watch the birds enjoying your feeders.
Man Cave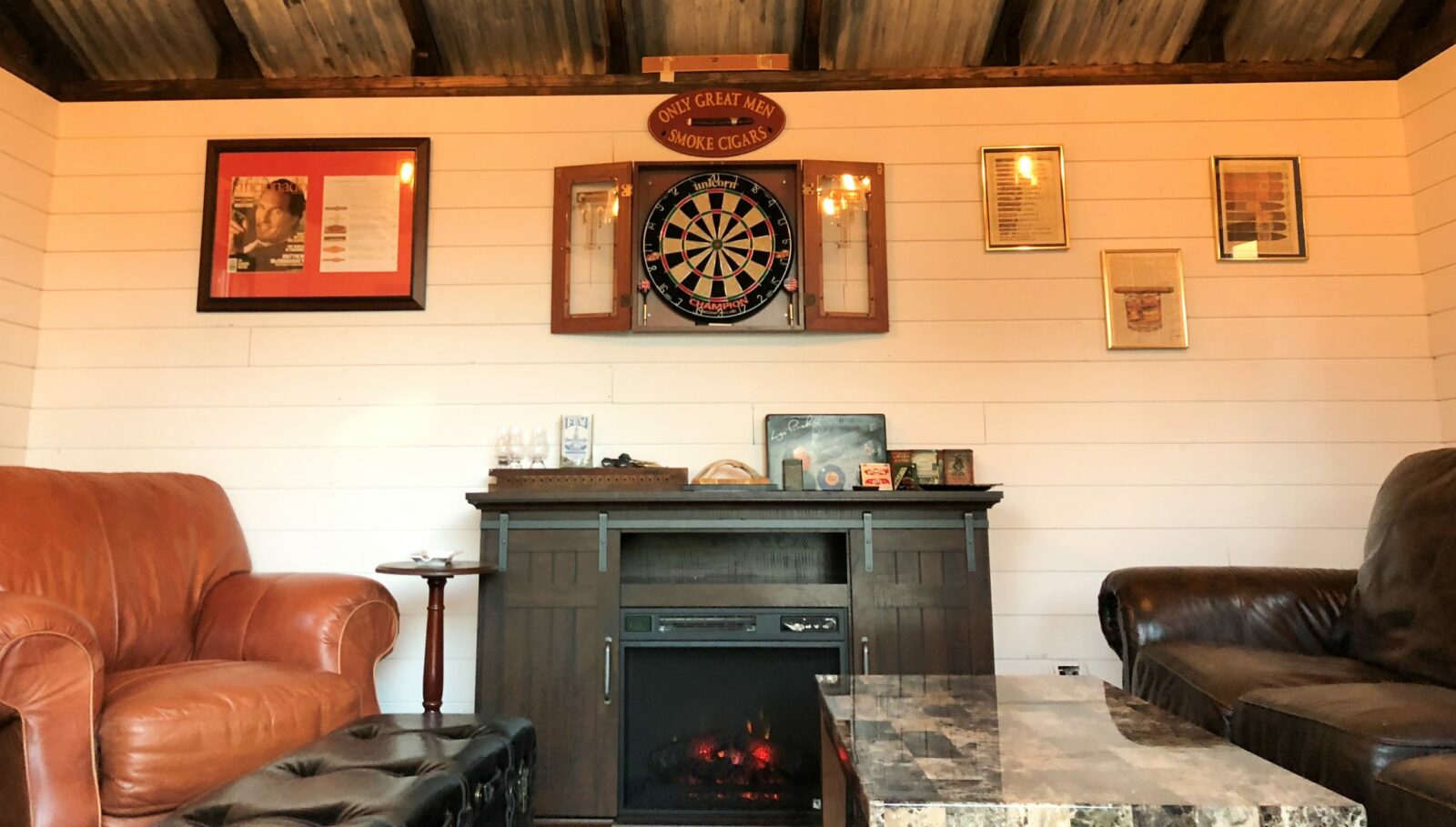 It would be a shame to discuss sheds with porches ideas and not mention the classic man cave. We've seen a lot of incredible man cave sheds over the years. Like she sheds, it's hard to imagine a man cave shed that wouldn't be even better with a porch on it. You can store your barbecue grill on it, keep the dirty shoes outside when the guys come over, and hang out on porch chairs when the weather is nice.
There you have it: 17 unique ways to use sheds with porches. Here at Beachy Barns we carry a few standard styles of sheds with porches. But, we are also a custom shed company, so if you have a particular design in mind for your porch shed, we would love to work with you to custom build your dream shed.