Pros and Cons of an 8x10 storage shed
80 square feet of storage, office or she shed paradise!
January 17, 2022 News and Tips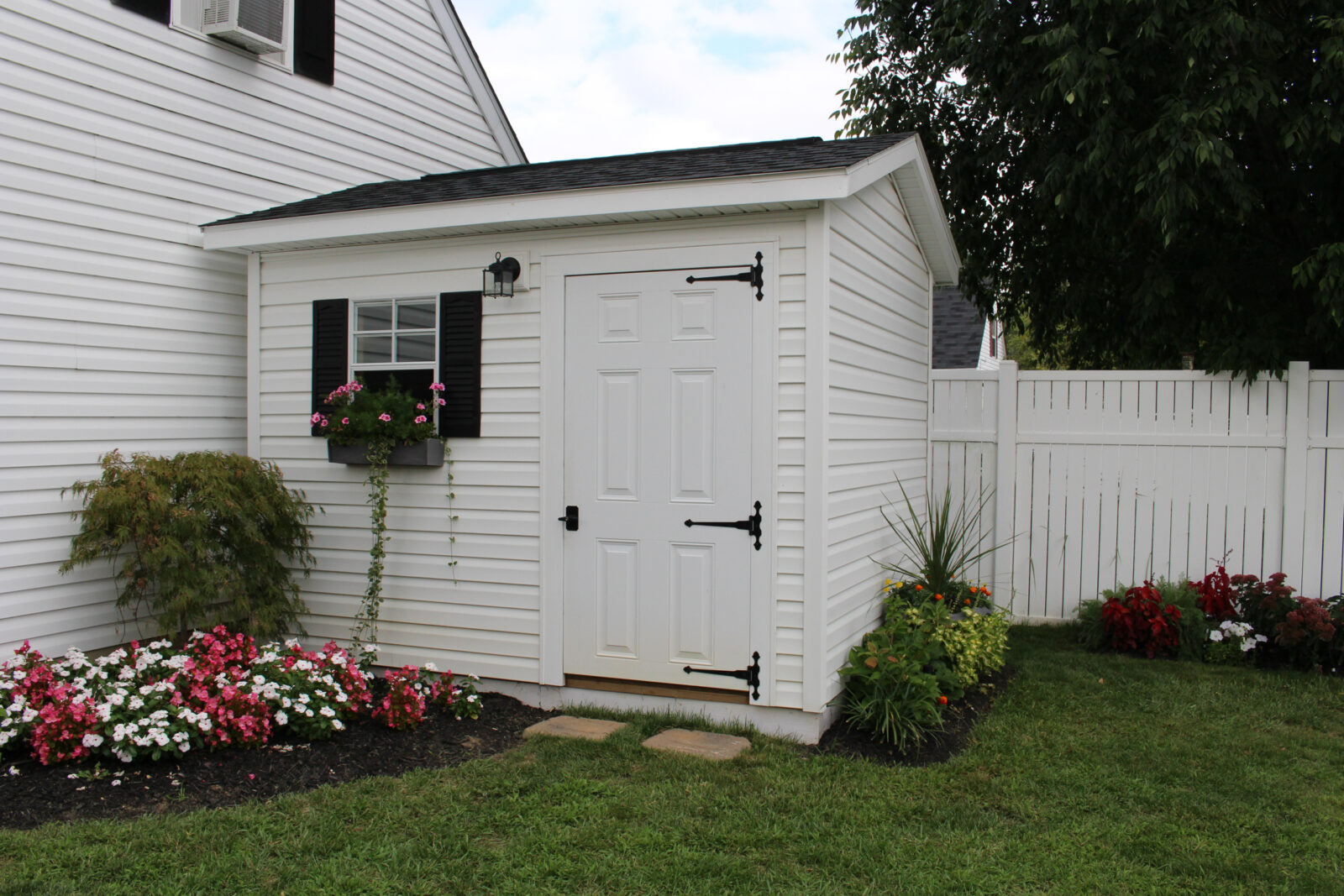 When you bought your house you promised you would never become like your parents. Yet here you are needing a storage shed and wondering if an 8×10 storage shed is going to be enough. You have accumulated enough stuff that you can't fit it all in the garage with the car very easily anymore. So you know it has become time to look for another solution to your storage needs.
While we can not promise you that and 8×10 ft  storage shed will give you all that you need for storage, let's walk through the pros and cons of a storage shed of this size. The 8 x 10 storage sheds give you an amazing storage space that is also aesthetically pleasing. 80 square feet gives you more storage then you realize.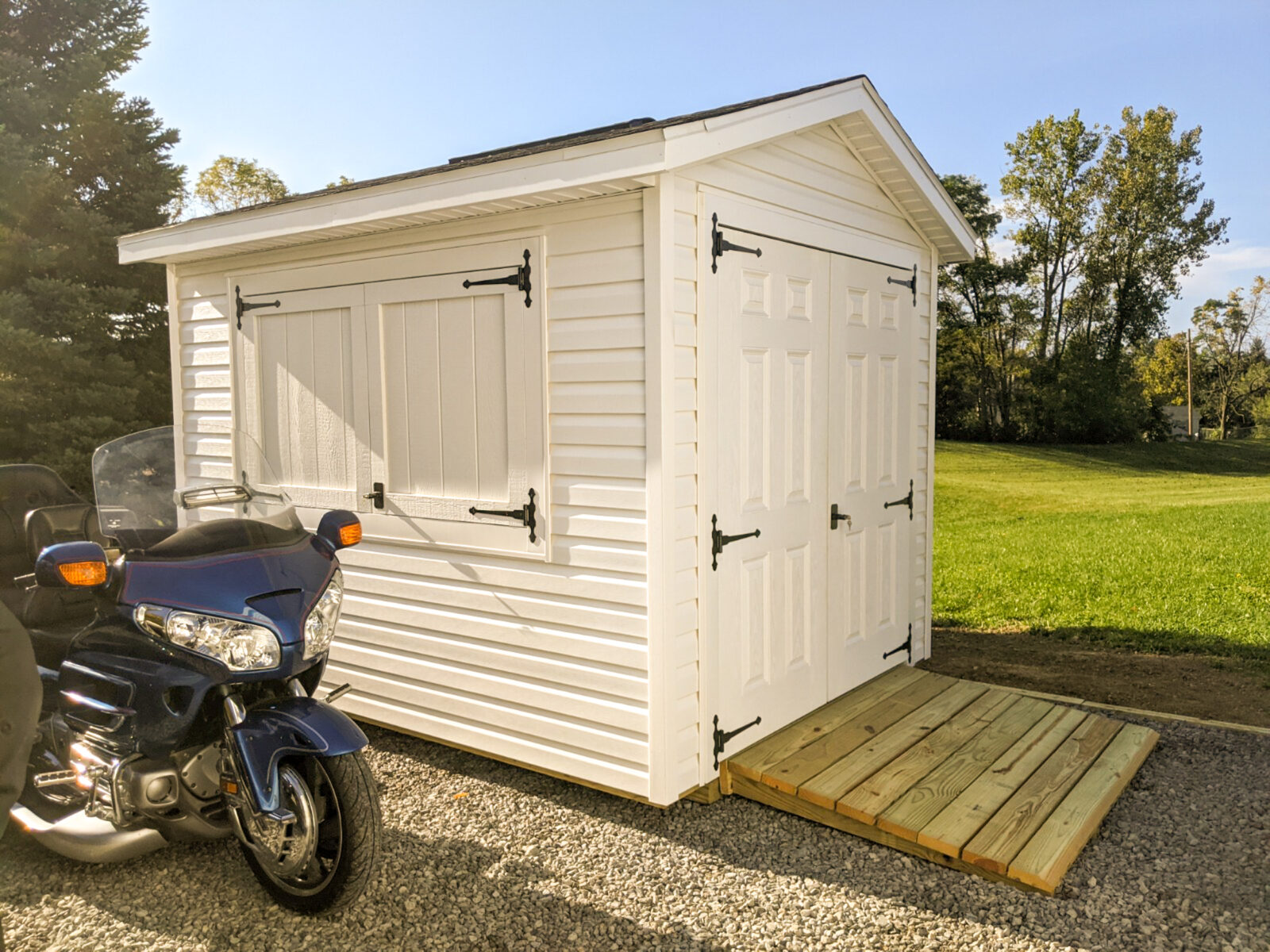 Pros of the 8×10 shed
When you begin to look at an 8 foot by 10 foot shed you mind is swirling with questions about how much storage space you will need.
Let's talk about some of the features that set this size of shed apart from the others that are out there.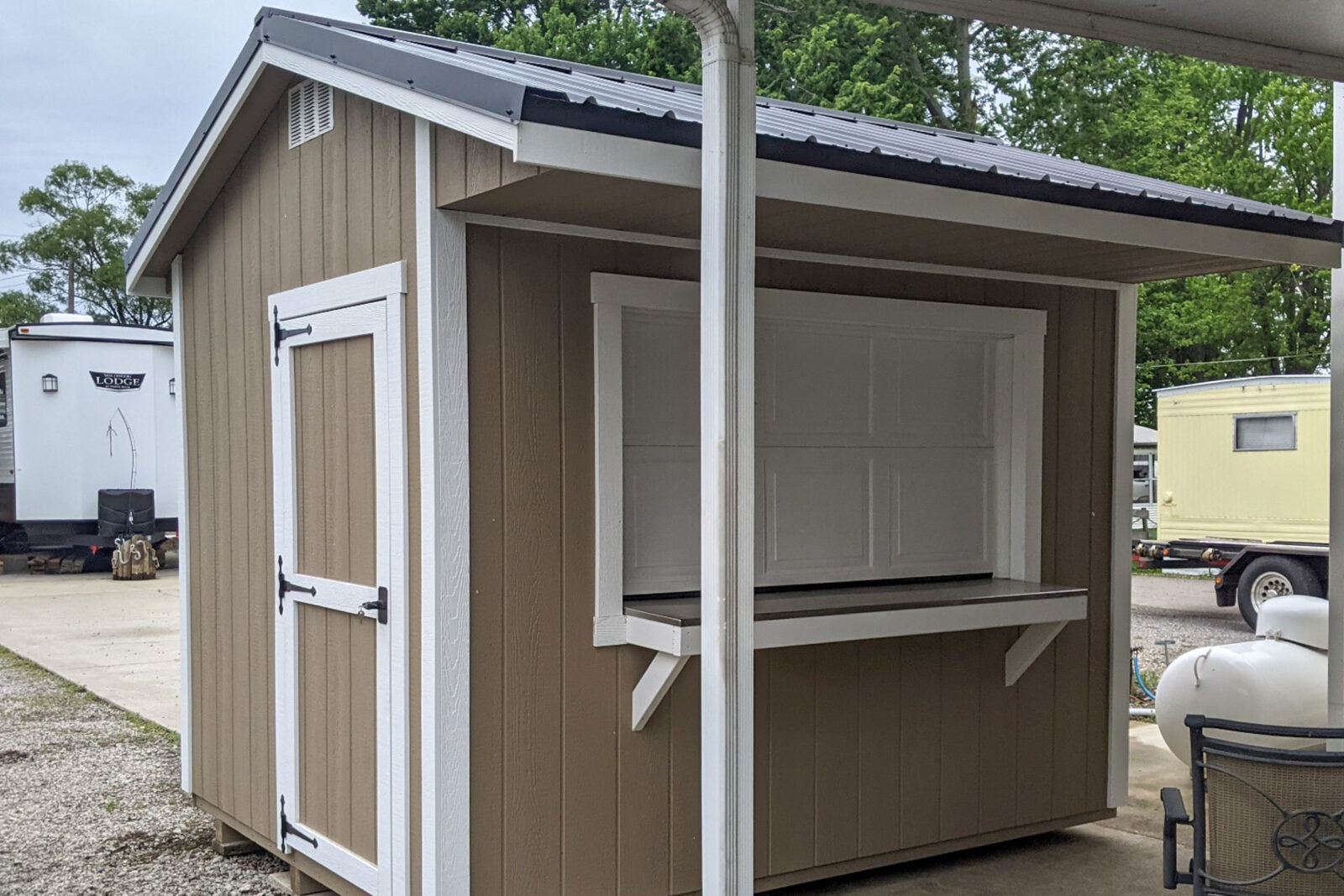 8×10 storage sheds have ample space for the standard backyard
When you hear of an 8 foot by 10 foot shed many things may come to mind. Let's take a multiple choice quiz, to see if you have the right idea of how big 80 square feet really is.
An 8 foot by 10 foot shed can be compared to this common sized item:
A.) A small office cubicle
B.) A Parking Space
C.) A Master Bedroom
D.) A Coat Closet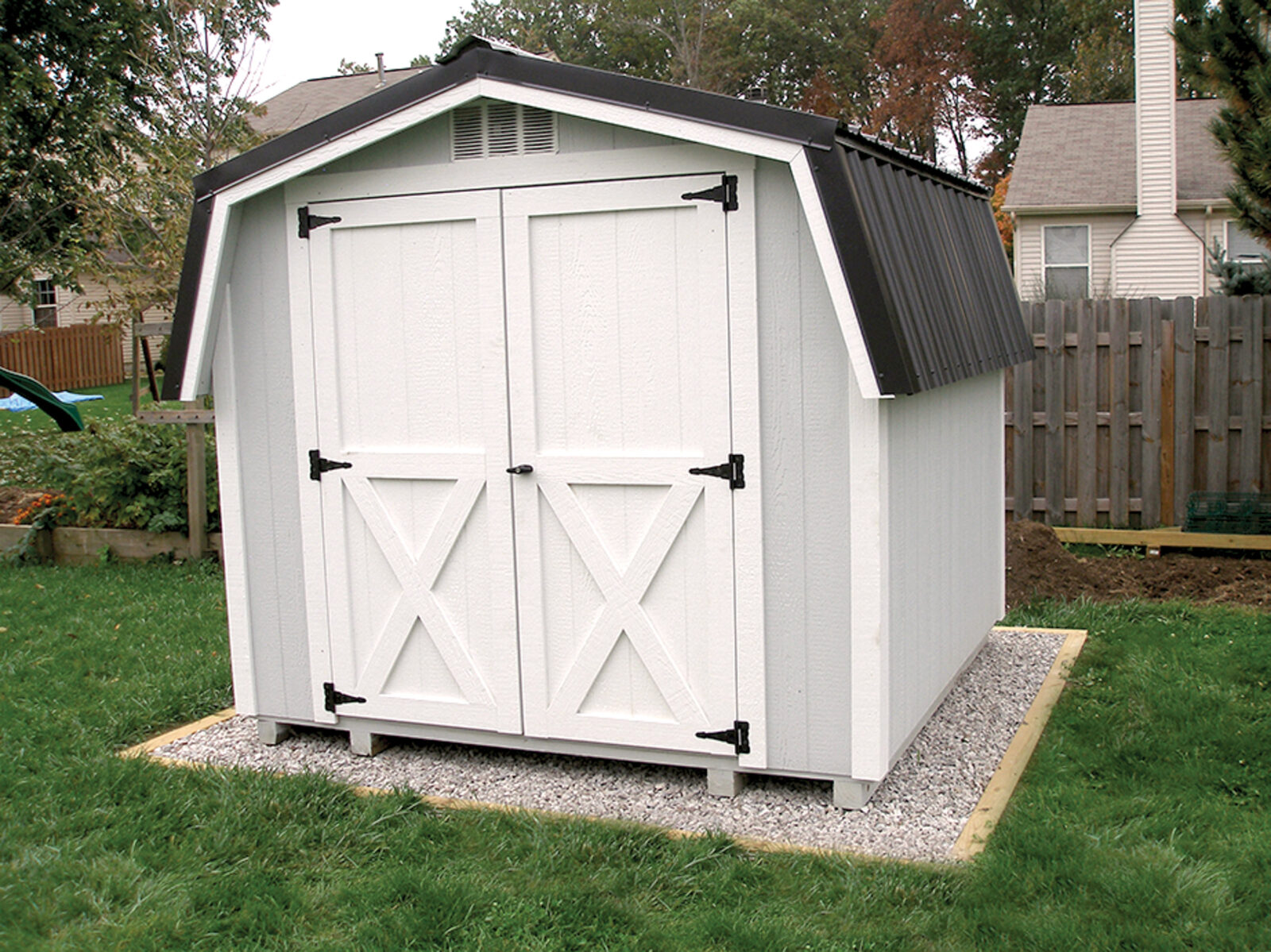 If you said B as your answer that would be correct! While an 8×10 shed would be a bit of a tight fit to park your car in, it is a good starting point for you to imagine what could be stored in your shed.
When you are trying to figure out all the things that you can fit in your shed it can feel like you are trying to put together a puzzle without a picture. A very helpful tool for you to use is LP's Shed Size Calculator. That being said, we have made the process easier and have a list of what you can fit in an 8×10 storage shed.
Here is a list of items that will easily fit:
2 Five Gallon Fuel Cans
2 Garden Tools
1 Generator
1 Propane Grill
1 Ladder
1 Push Lawn Mower
1 Miter Saw Table
1 Shop Vacuum
1 Small Drivable Vehicle
As you can see you can fit quite a lot of your daily use items in a shed this size! This does not account for the fact that some of our models offer a lofted area for even more storage.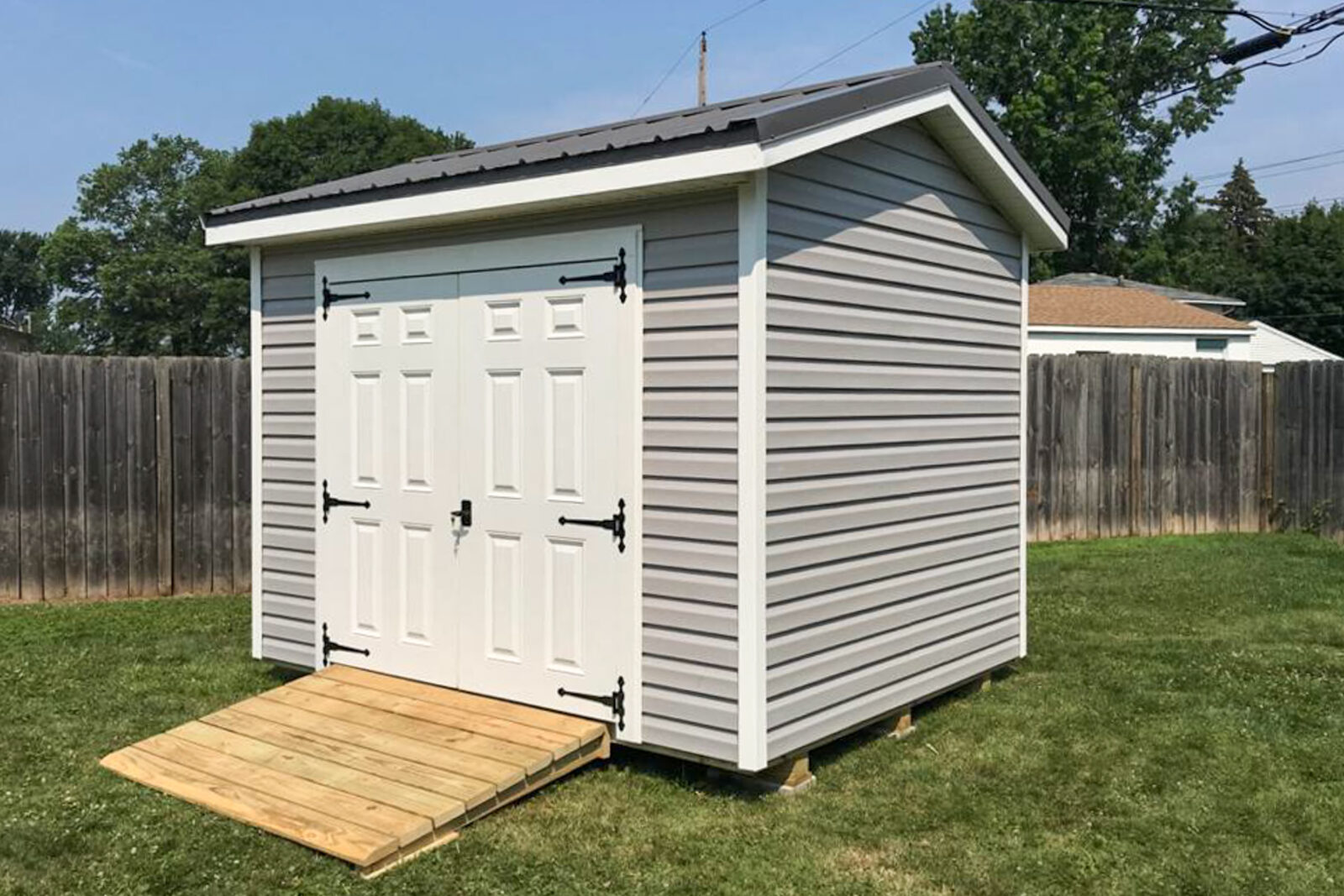 8 x 10 sheds look great
When you look at the sheds that are available to you, it is easy to envision what it will look like in your backyard. Perhaps you like the rustic look of our Cabin Shed or the timeless appearance of our Classic shed.
Nearly all of our sheds are able to be built to the 8 foot by 10 foot storage shed capacity. This means not only can you have it be the colors you would like, but it can also be the building style you want.
This all means you don't have to worry about hindering or changing your plans based on the appearance you want.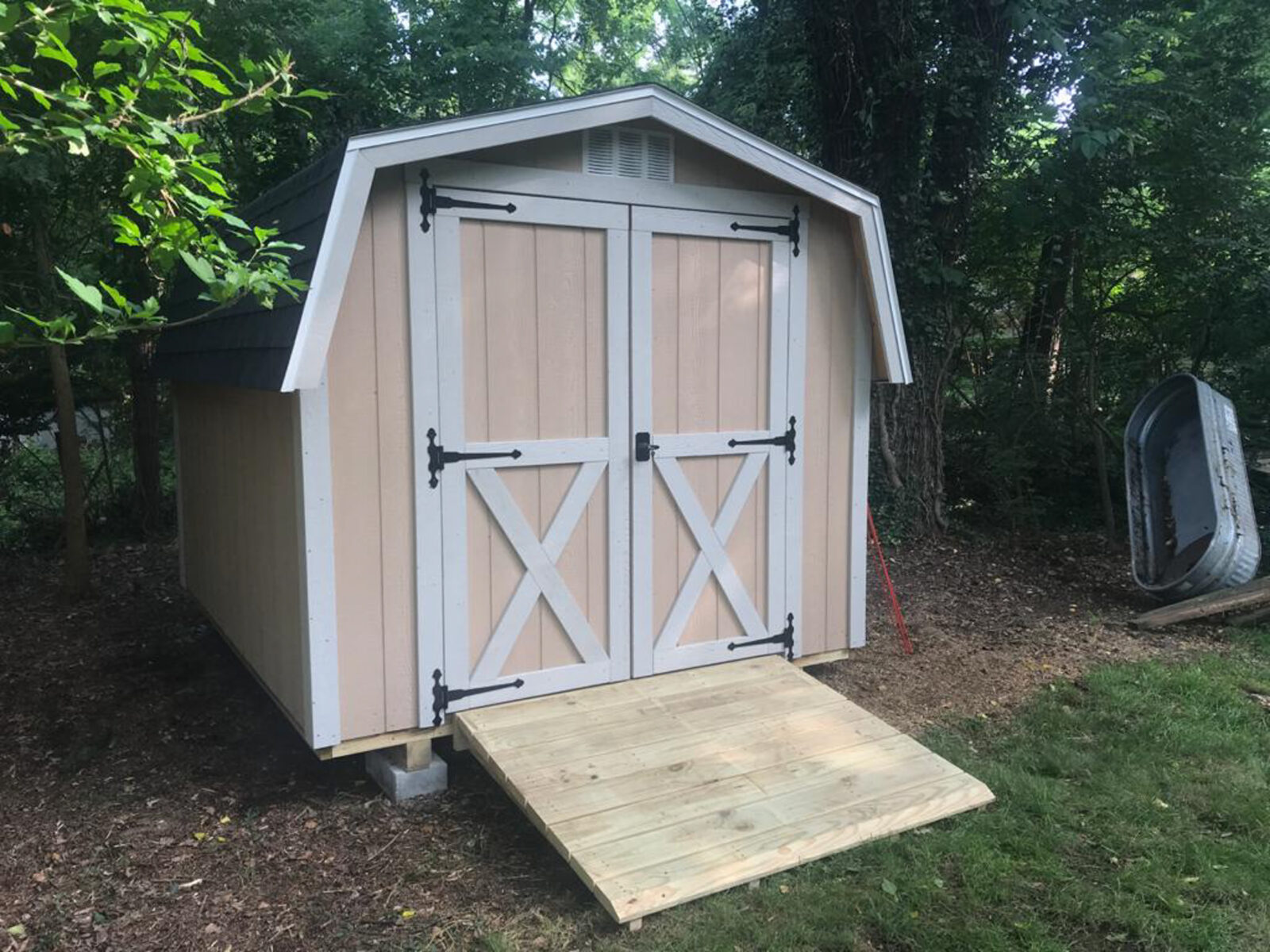 8 x 10 storage sheds are ideal even for the small backyard
Like we discussed previously, the 8 foot by 10 foot storage shed is about the size of an average parking spot.  This means that the shed will fit easily into almost any small backyard.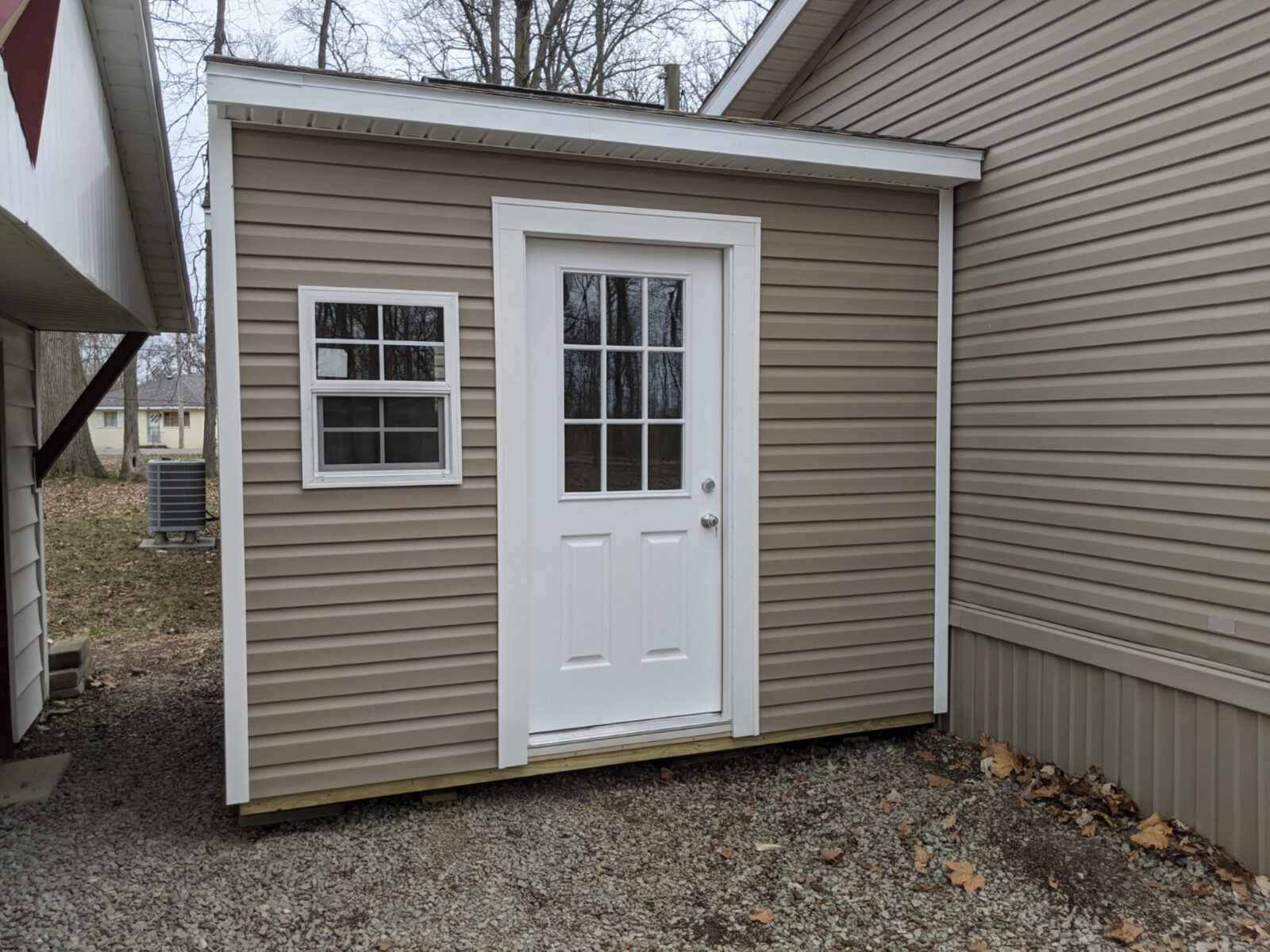 8 x 10 storage sheds are affordable
When was the last time you spent a lot of money on something and hated it?
Maybe it was the "steal of a TV" on black Friday, the car you could afford when you were 16, or that "flip house" that became a huge flop!
When you buy an 8 foot by 10-foot storage shed you don't have to worry about breaking the bank to store what you need.
Our 8×10 ft storage sheds start out at the price of a few thousand dollars.
We know this may not be as "affordable" as some of the big box store's plastic resin sheds. However, we are confident that our storage sheds will outlast what others may see as the "competition" and will be cheaper in the long run.
Current pricing at Beachy Barns for 8×10 Storage Shed
| | | |
| --- | --- | --- |
| Shed Style | DuraTemp or T-111 | Vinyl |
| Gable | $2940 | $3760 |
| Quaker | $3080 | $3950 |
| Cape Cod | $3120 | $3940 |
| Cottage | $5295 | $6715 |
| Mini Barn | $2525 | $3235 |
| Classic | $2700 | $3355 |
| High Wall | $3245 | $3925 |
| Cabin | $3925 | $4960 |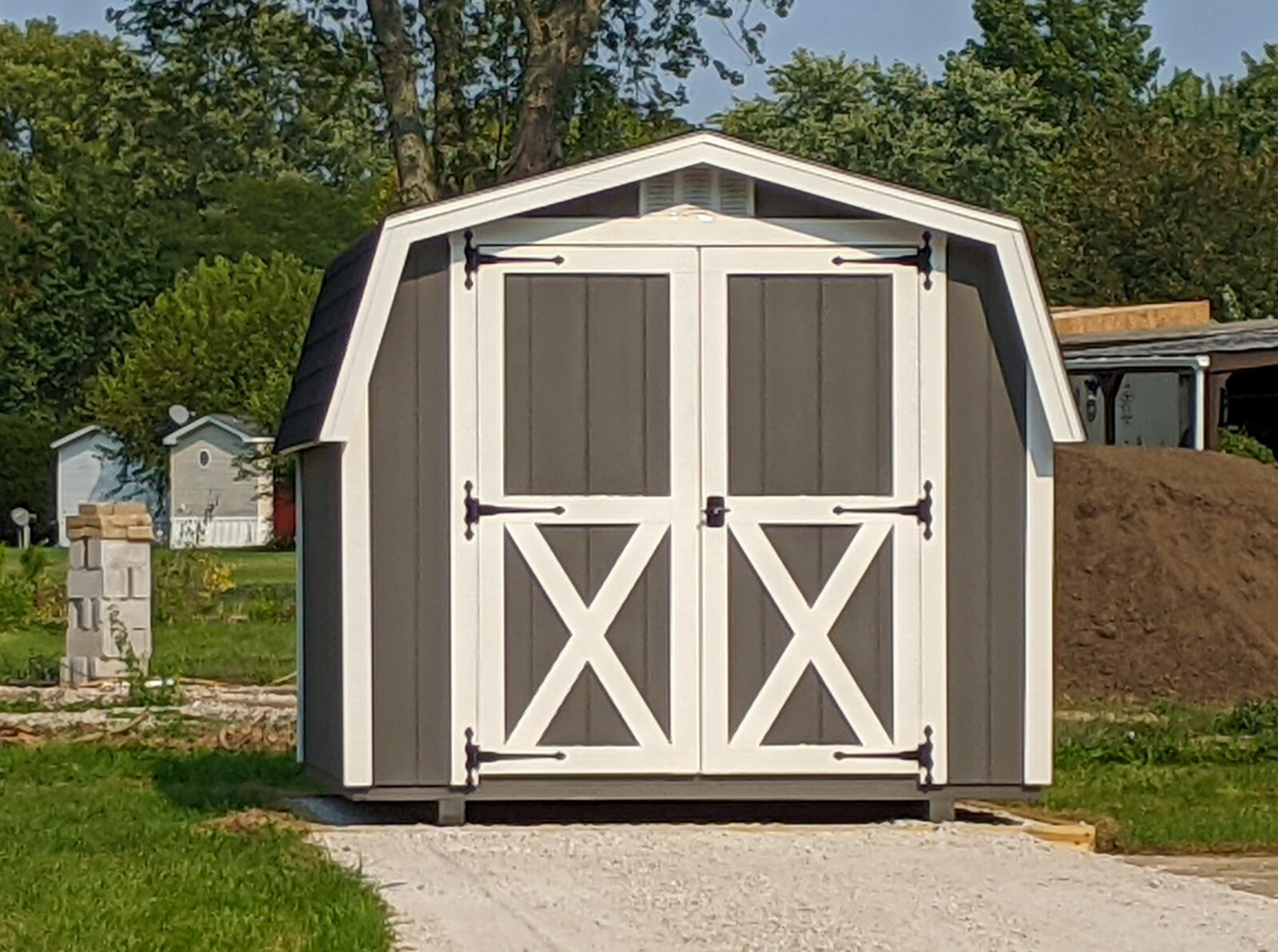 8 x 10 storage sheds cons
Though we feel there are many benefits to the 8 by 10 storage sheds size we also realize there comes some cons with something that is so specific in its size.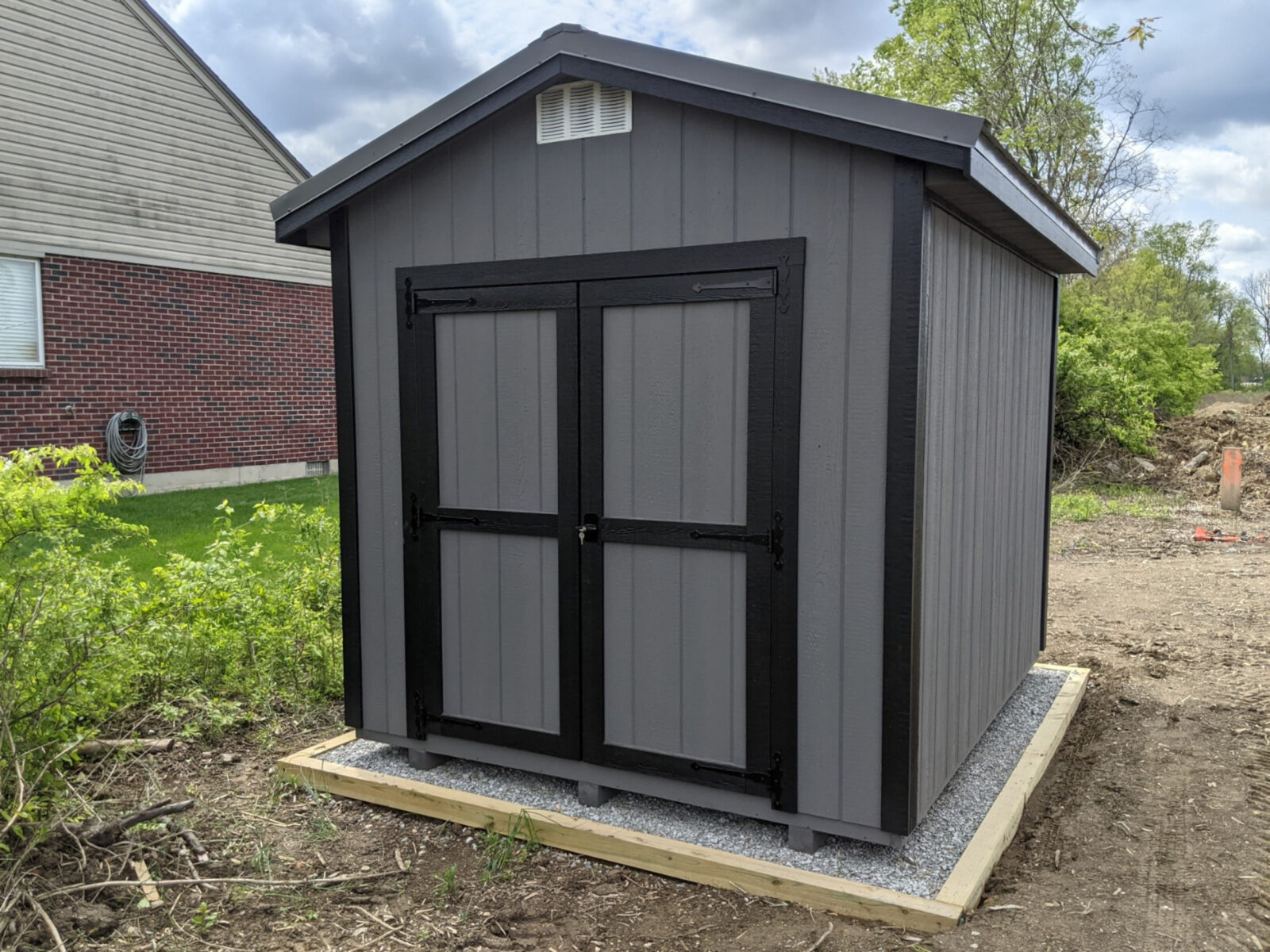 8×10 storage sheds are not big enough for everyone
As you can see 80 square feet can hold a good number of your belongings, but we realize that the 8 by 10 storage shed is not for everybody. People may need more space for their hobbies, belongings or office space.
For instance, if you are wanting to have multiple riding mowers or multiple atvs in a storage shed the 8 foot by 10 foot storage shed is not going to be able to meet the needs that you have.
One upgrade you can make instead of going with a bigger size is getting a model that will accommodate installing some extra loft space.
When you work with a reputable builder, like Beachy Barns, we will be able to offer you advice on what size shed you will need. We love assisting our customers in guiding them in the right direction if moving up to a bigger storage shed size is needed or if adding a loft will serve the purposes better.
Fortunately, all of the shed styles that Beachy Barns builds are able to be built to a bigger size if you so need!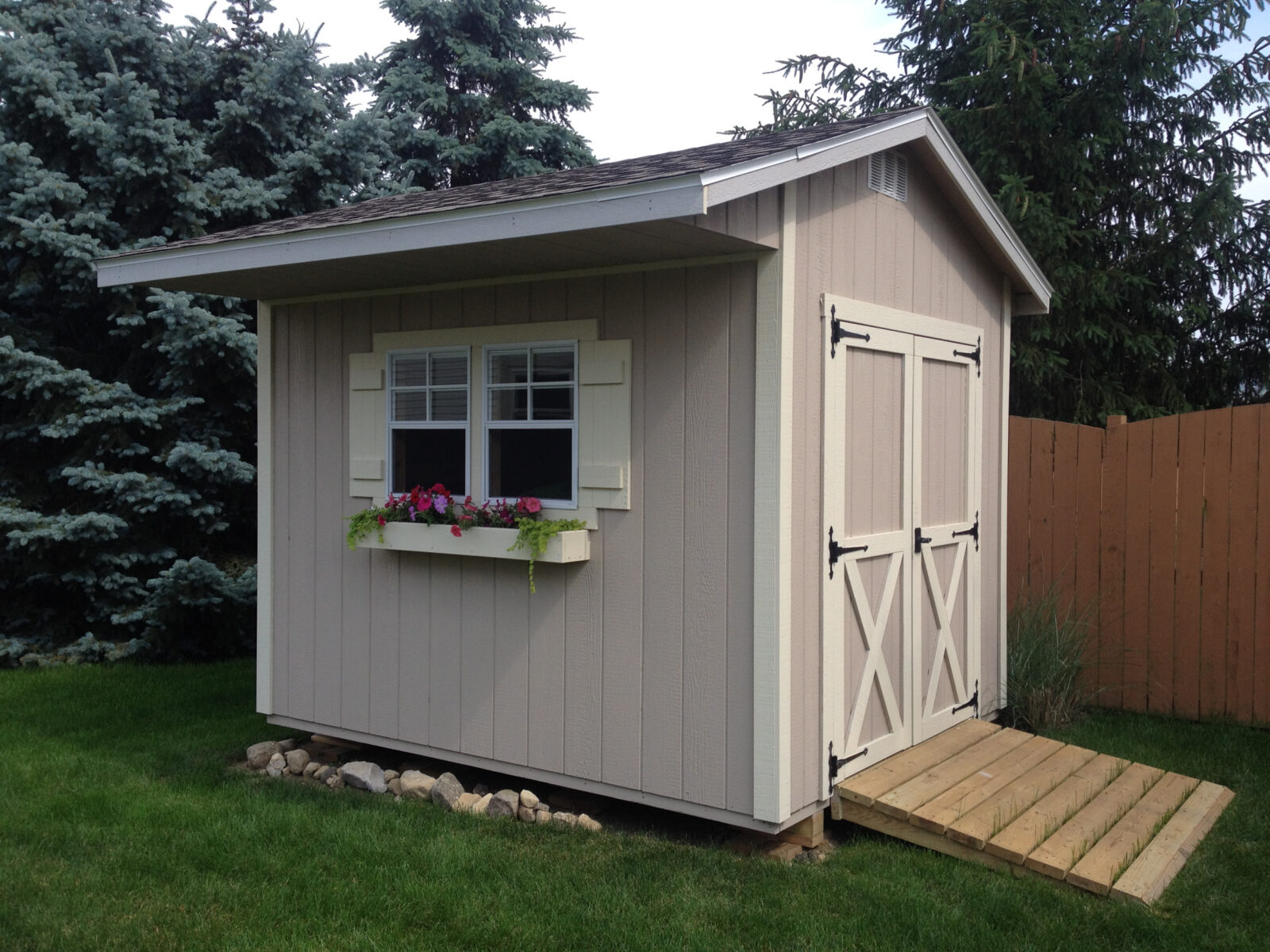 An 8 x 10 shed size may be too small for your windows and doors
When you have your 8 foot by 10 foot shed built, you have ideas of how you want it to look and function. For the most part, you will be able to have those needs met in your design. However, some features may not be available in the way you had hoped. An example of this may be how many doors you want on your building or where the doors are located.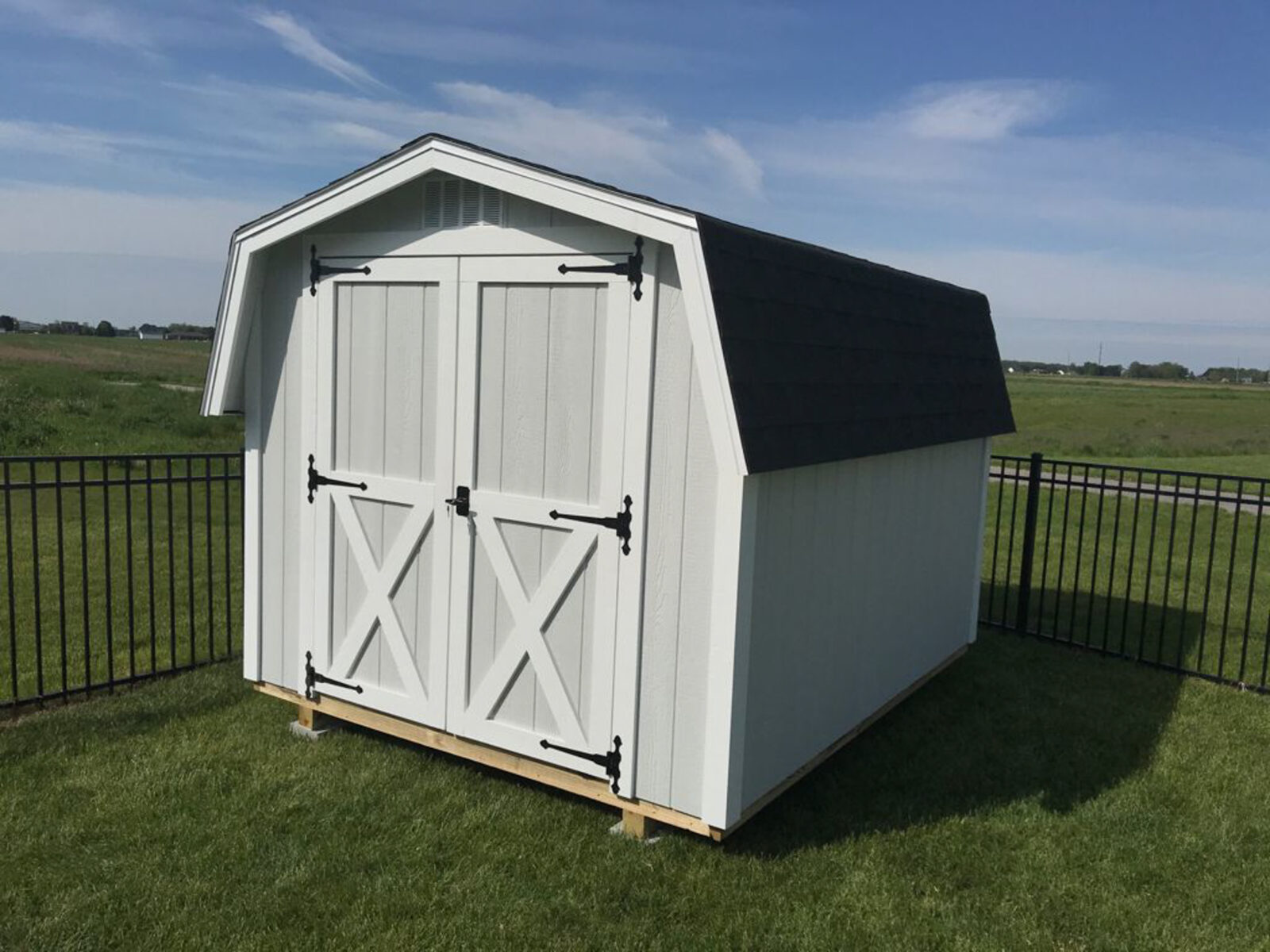 Nevertheless, some of our customers get creative, like with this cape cod shed here!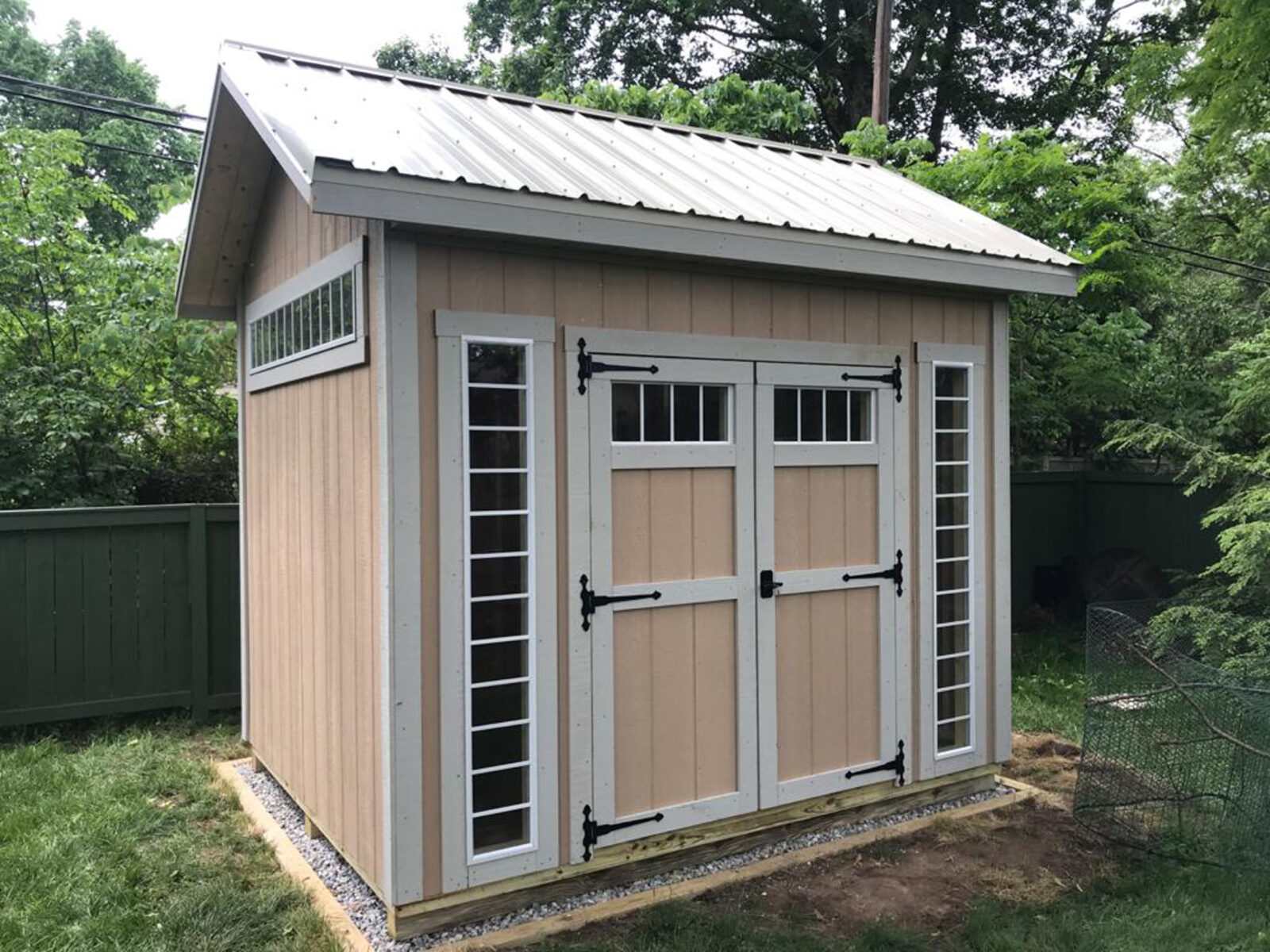 The Verdict on 8 foot x 10 foot storage sheds
So in looking at an 8 by 10 storage shed you are able to realize what 80 square feet is able to handle and also not able to contain. Maybe all you need is something to hold your lawn mower, a propane grill and some gardening tools. If so, then this kind of shed is for you!
If you are needing a bit more storage than 80 square feet than that you may need to consider adding in a loft storage space or upgrading from the 8 foot by 10 foot storage shed.
All in all an 8 by 10 storage shed is a work horse of a building for all of your home's storage needs. Here at Beachy Barns we want to leave our customers not only happy but satisfied that the money they spent will protect their belongings for years to come.