Storage Buildings In Vandalia, Ohio
Do you want to purchase a new shed but are unsure of what style to choose? Beachy Barn is a Central Ohio-based family-owned business that manufactures high-quality storage buildings and has thousands of satisfied customers. We build storage sheds that are sturdy and appealing. Our sheds can be used for a variety of things and are customizable. Get in touch with us today.
Sheds and Prefab Garages In Vandalia, Ohio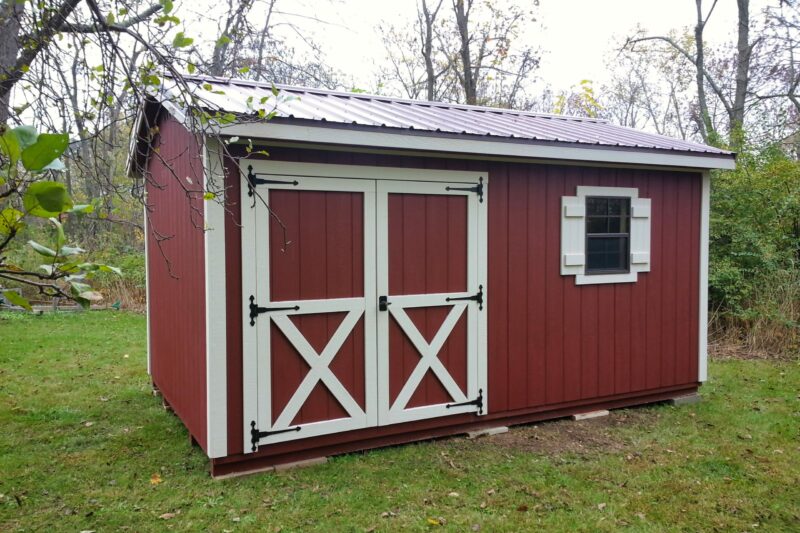 One of our more popular sheds in the Vandalia, Ohio area is the Gable shed. Its contemporary roof with a straightforward, open design makes it a wonderful option for many backyards. You may also easily customize this building with doors or windows being added to any wall.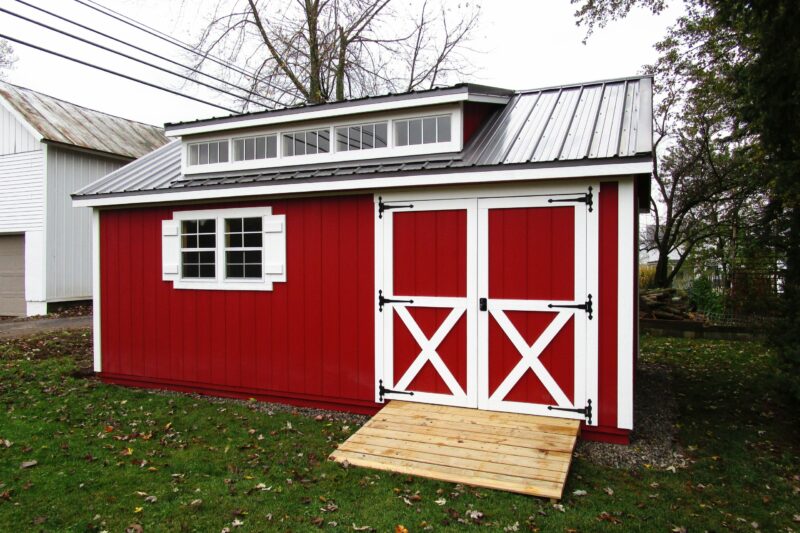 Do you need a shed in Vandalia, but really want to add an impressive new look to your yard? The cottage shed will do just that. The Cottage shed has a beautiful transom window in the roof and looks like a small quaint cottage. This building features an aluminum threshold along the bottom of the door opening and is constructed in accordance with residential roofing, siding, and framing standards. Get in touch with us for more info.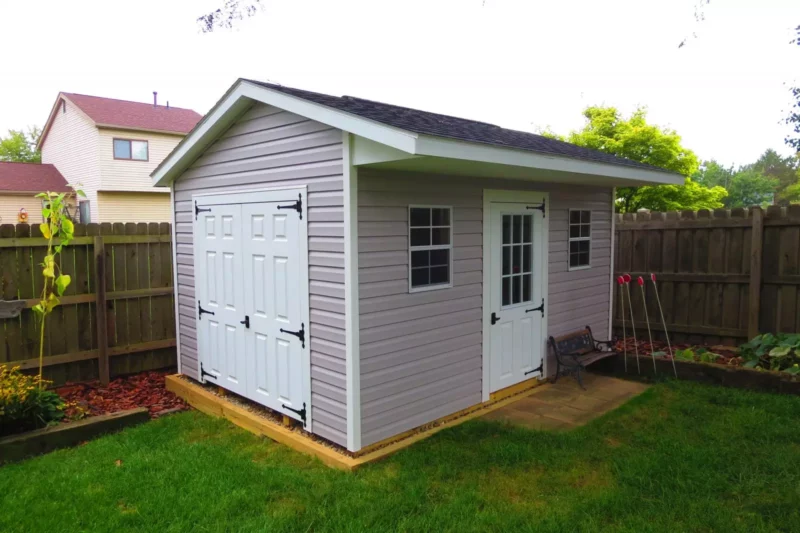 Are you looking for a shed with a unique design? The Quaker Shed offers a unique large overhang for rain protection while opening the doors. This design is excellent for specialized projects like home offices, she sheds, or backyard storage. These are available in inventory or for custom-built sheds in Vandalia, Ohio.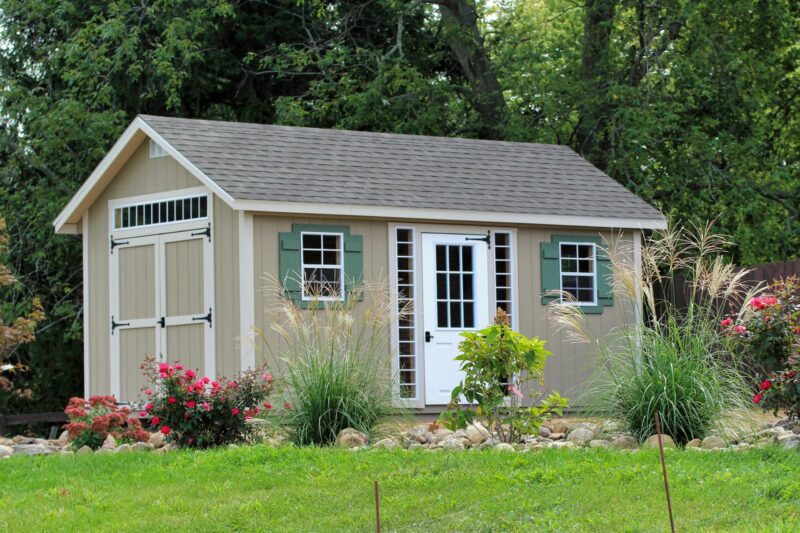 Are you looking for a shed with an interior loft for more storage? With a steeper roof pitch and a larger overhang, our Cape Cod Sheds take the common Gable shed to a new level of beauty. If you need more space, the Cape Cod shed offers the option of a loft. Choose your color, create a 3D design, or get a quote.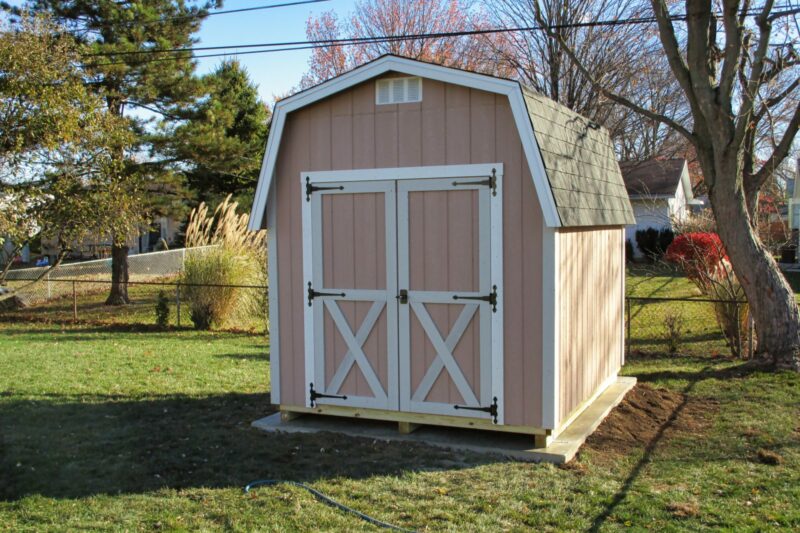 You have come to the right spot if you're looking for a classic barn-style shed. The classic shed was the first style of the shed we built at Beachy Barns. It maintains the attractive barn look of the mini barn but offers much better headspace and the option to add a loft for additional storage space. Get in touch with us for more info.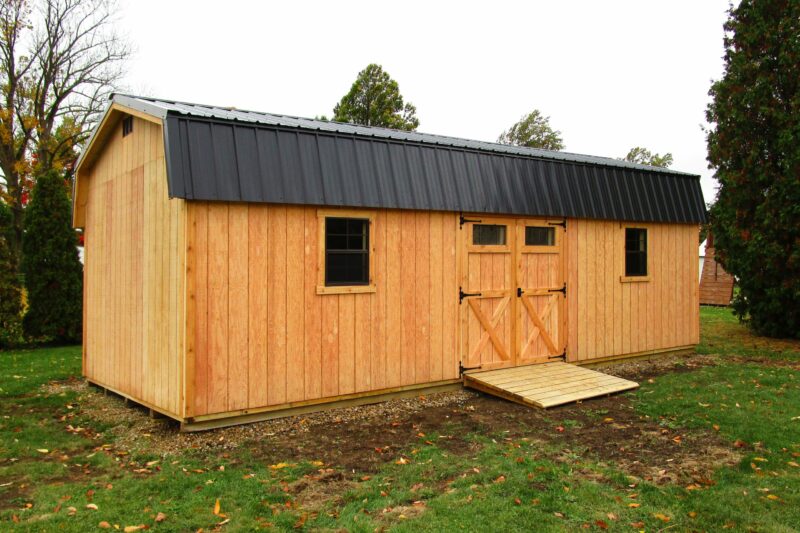 Do you need a storage shed with extra space? The Highwall style has sidewalls that are 6'4″ tall. This shed form allows for the placement of windows and doors in any combination while still offering more than enough room for an ideal loft area.
We offer a wide range of prefabricated garage styles. However, if the floor plan is large enough, a garage door may be installed to any of our shed models. Our Vandalia prefab garages can be attached to a concrete pad or installed on a stone foundation. We typically construct them in our shop and install them in less than an hour, but we can also build them on-site. The garage floor is built with 2×8 treated floor joists as standard, so you won't have to worry about the weight of your car or other heavy gardening equipment.
Rent to Own Sheds in Vandalia, Ohio
Rent to Own is a great option for you if you are currently paying too much for a self-storage unit and are unable to pay upfront for a storage shed. Our rent-to-own program gets you your own storage space NOW with No Credit Check and Low Monthly Payments.
Choose Your Dream Shed or Garage
Reserve with 2 Months Rent Up Front
Make 36 Monthly Payments for full ownership
Sheds Built On-Site in Vandalia, Ohio
Are you concerned that you won't have enough room for your prefab shed to be delivered? We specialize in building sheds on-site in cases like this.  Click the button to learn more.
Gallery of Available Sheds in Vandalia, Ohio